A vacation is like love - anticipated with pleasure, experienced with discomfort, and remembered with nostalgia. ~ Author Unknown
This weekend was filled with activity. Friday night we had a meet-and-greet dinner at church with a prospective pastor and his wife. They traveled from Pennsylvania and want to move here closer to their family. He is used to a small congregation and would like to continue to be full-time. His wife would like to find as good as a full time job as she has now and they need to sell their home and buy another. It was a very nice evening and I am anxious to see what God will do to work out all the details if this is one He has chosen for us.

Saturday, we had a H-4 fundraiser, which did not do well. It was rather cold and we were there from just before noon to three o'clock.

Sunday was church service in the morning and Trunk-and-Treat that evening. Now before there are any misunderstandings, I still feel the same about anything to do with Halloween, as I wrote in October's Thorn, so I admittedly have conflicted feelings on participating in this version promoted by my church, however it is not on the day of Halloween itself, which probably is just a rationalization. Another would be, I let my daughter dress up and paint her face about anytime we want so that is not very different. Going from the back of one car to another, hmm, not sure I can rationalize that one except that the people who were there had come for the event so it was more like a theme party, rather than begging for candy from house to house. There were no scary costumes...but I did notice some of the decorations did have elements of the typical spooky or creepier Halloween theme than just an autumn, harvest, or fun one. That part just seems to sneak in, which makes wonder if we will do it again.

My husband decided to decorate the back of our van with an "All God's Creatures" theme and he only used a small sampling of the Princess' stuffed friends!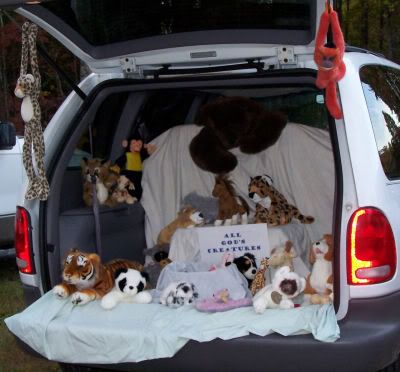 You see, I was not kidding when I said we had a Noah's Ark theme in her room for the last nine years.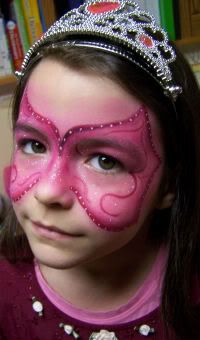 The Princess dressed as...(Can you guess it?)...a princess. It went pretty well as it was not at cold as the day before. Besides candy being given to the children, we also had grilled hot dogs—thankfully, some protein to help balance the sugar.

After seeing the vast improvement in the Princess' attitude last week, I decided that I could take this week off from homeschooling to do the finishing touches on the Princess's bedroom. Hearing that she would be doing no lessons except piano, of course, the Princess was elated! However, even though she did not have much candy, Monday morning she complained of her tummy aching. She was a bit better after eating, but throughout the day off and on she would lie around. After a big disappointment that the cover of

Chitty Chitty Bang Bang

that we purchased at a consignment sale for $1 actually housed a tape of some TV soap shows inside, she chose to watch

Babe in the Big City

and then

Babe

—backwards, I know, but she was not feeling well so I indulged.

Last night the tummy ache was worse so I used more aggressive health treatments and she finally was relieved enough to sleep, but she was awake at five o'clock this morning again with her stomach hurting. I again gave her a treatment and she fell back to sleep. I suspect she will rise late this morning and I may have to do some cuddling with her and a book.

My husband is scheduled to work within a few hours' drive and should,

should

, be home in the evenings if all goes well. He was here last night at least. This is a nice change.

I have made a Celtic knot stencil design for the corners of the Princess' bedroom, but have not decided on the color, although I am leaning towards gold to pull in the colors in the ceiling fan and another furniture piece, which concerned me would not compliment the pink well alone. Hopefully, the Princess will agree, although that can be more iffy when she is not feeling well.

So...with all these unplanned developments that seem to be so routine here—the very reason why I don't do much planning—

maybe

I will get the painting done during this week as I hoped, maybe!

~ My Lord, please heal my daughter. ~