The difference between perseverance and obstinacy is that one comes from a strong will, and the other from a strong won't. ~Henry Ward Beecher
I have not fallen off the face of the earth. I have been spending my computer time creating a new website for my church, a new logo, and a new design for the outside sign. It is just taking all the time I have to do them. It seems I am the only person in my church with real website experience and some graphics designing, so I have been really, really busy.

When we had the yard sale a few weeks ago, many people who came told us that they did not realize that our little house was actually a church. The sign is back from the road and we are on the inside of a curve in the road with a thick woods to the side and behind us. The sign although large enough, just does not stand out. This resulted in a push for a new outside sign. We want something that grabs attention to itself without being in poor taste...something that everyone will remember after they pass it...something that really draws attention to the sign so they will read the words indicating there is a church here.

I got this crazy idea of using a lion on the sign with a bright sunburst background, which my husband will have printed out on a media that will be stretched over the existing sign, much like they do billboards now days. My husband is on the service end of such printers, so it is possible to do a multicolored sign like this. The lion, I hope, would be associated with the Lion of Judah or even Aslan in Narnia to the little children, but mostly it was meant to just grab people's attention.

My husband and I played with ideas, but when it came to actually making it...well, all he would say when he came home from a trip for work is it was not what we originally discussed, meaning he was not impressed with what I had to show him. I had been working on this for four days and he is right, it is not what we originally discussed. What we originally discussed was a bit more subdued sunburst background with the cross on a hill, but...I thought this design met our criteria much better. The colors are eye-catching, the design leads the eye from the lion to the new logo and then down to the services info. No one can pass this sign and not see it. Sigh!

There is a church board meeting tomorrow and they have to approve it and my husband is one of the members, but I think he is warming up to the design now. Still, I wonder if I should go back to the drawing board and start over. It is not like I have a staff of people so we can offer several different designs from which they can choose. I may be able to do another one or two, but it may take another week or two away from working on the website. (The link to the website has not been transferred to the new one yet, but I will let you know when it is ready for viewing. Right now it goes to the previous website, which is outdated.)

Anyway, here is a preview and please consider that this sign is 6'h x 8'w with two sides set to at an angle towards 45-55 mph oncoming traffic from both ways. You can be brutally honest with you opinions...well, not too brutal, as I have been working on this for five days and I am mentally fragile right now. Would this grab your attention?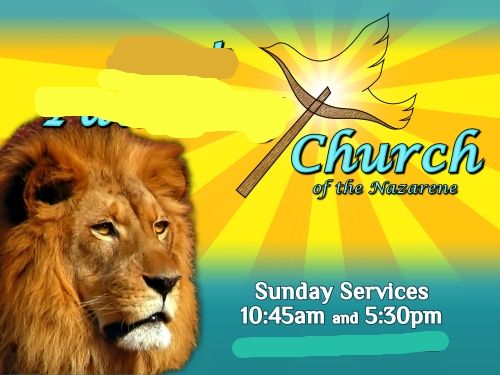 At this point, I think I am getting burned out on it all. I was eager to do these things and I want to do them, but every time I think about how much more that needs to be done now...I want to just cry. This is what happens with me and you would think a woman nearly 50 years old would learn not to do this, but I have not apparently because I am doing it yet again. I throw myself into a project, obsess over it, and let it consume me completely. I suppose it is something most good artists and researchers tend to do——not that I am particularly brilliant at either but they seem to be the things I do the most so I can at least understand the madness such people can portray. Perhaps people see that madness in me and I am ignorant of it because it seems normal...? I just have to remember that to break it all down into small pieces, so that each of itself is an accomplishment when completed. You really would think I have had enough practice in my life to do this as a matter of habit by now, but...no.
~ My Lord, when I get to the point I don't even know for what to pray, I know that I have gone too far into a project. Perhaps I have not sought Your will on what You want, perhaps I am afraid that I have done it all on my own accord and not Yours, perhaps I fear having to start all over, but in my heart I would rather do as You wish for me to do even if I have to start over. Please, my Lord, let always Your will be done and not my own. ~