A vacation is what you take when you can no longer take what you've been taking. ~Earl Wilson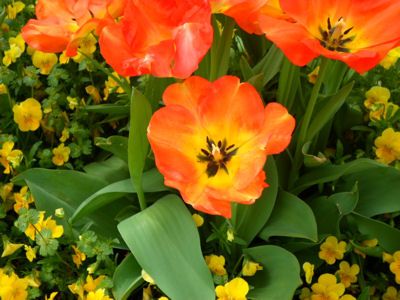 This picture and the next one of tulips was taken at Pigeon Forge by my very talented daughter, the Princess. Her eye for photography is so natural to her that she does not even realize how good she is.
You might be wondering at this point how we ended up on a long weekend break in Pigeon Forge and this is how it began: In February, during the public school winter break (they have a week long break about every six weeks) a warm spell that fooled us to believe spring was here (because it was really cold, near freezing, after that until just recently) and I was lonely because my husband had been away for a few weeks, a friend invited me to go with their family on a cookout at a park about an hour's drive away. My daughter fell in love with that park.
While talking and walking around the pond (the park called it a
lake—
I think not), I offered to take care of their six-year-old during the public school spring break in the next six weeks, which shows how much of a friend she is because I dislike taking care of other people's children as a rule. After talking about Pigeon Forge—spurred by being outdoors among the tall trees and seeing cabins for rent there—and finding out that my husband and I had not been there, my friend began forming this idea. She thought we all should share a cabin at Pigeon Forge on the last weekend of that break.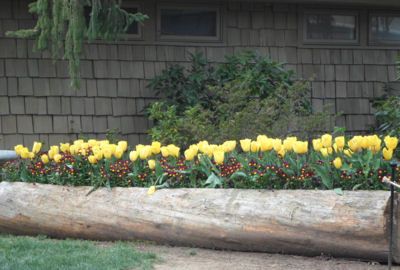 Now we have been out of debt, except for the mortgage, since October and we have caught up on some things that needed fixing—not all, but some. However, we have a major expense coming up for which we have been saving: replacing widows and siding on our house. I was weighing that in my mind as my friend continued this weekend getaway plan in hers.
My husband thought it would be a good thing too. Inquiries as to availability were made. The cabins they had rented before were not available but a larger one was: four bedrooms, three full bathrooms, hot tub, and game room! Everyone asked for time off work (but me) and sent in the first half of the rent for two nights, however there had been a fire in the Pigeon Forge area afterward and for a few days we did not know if the cabin had been involved.
Friday we left on what could have been just a four hour drive, but we had to stop for lunch. Our cabin was on the lower part of a quiet, pine-covered mountain just outside "the strip," which is the main road lined with side-to-side tourists attractions. Tourist traps are not usually my kind of thing as I prefer the woods and hiking and relaxing and maybe a little shopping, but I am flexible. We did not go hiking, but we did have a nice balance of doing exciting, action things as well as relaxing ones. The food we made and the food we had out was all very good
—
too good so shows my waistline. My friend makes the most interesting dishes that are really easy to make and taste delicious, probably because of her love for cheese, cream cheese, and sour cream. She made a layered taco dip and what she called a
chess cake
, both quite memorable.
There was a bit of a disappointment when we were looking for the Ben & Jerry's Ice Cream Shop. We saw the inside wall with a mural of a cow on the outside of its neighboring store and rubble where the shop had been. I was so looking forward to going there, but there were other ice cream shops. We decided on Marble Slab Creamery and ate way too much of really, really good ice cream. I do not remember feeling hungry at all during the entire trip, which indicates how much I over ate.
Oh, before you go to the pictures below there was one small hiccup. When we arrived home we noticed that one of our rabbits had been moved from one cage to another and the middle one where it belonged was unlatched. Our pets were to be cared for by a neighbor with four rescued dogs and a cat of her own. My husband set up the rabbits with extra water and food so that she would not have to mess with them at all...or so we planned. However, even though both he and I check the cages to be sure they were latched, at some point one of the rabbits got out. Now we have them in a penned area, but it is mostly to keep large animals out and rabbits can get out. So, the next door neighbors' two dogs are going wild because Sharii (Shah REE) is chasing around the half grown rabbit. Now that might sound like a dangerous situation and Sharii can get rough, but usually with a rabbit of this size, not more than an aggressive male rabbit to another. I felt so bad for the lady, but the rabbit came up to her and she got it into a cage. I guess the next time we go anywhere we will padlock the pen, because someone had to have unlocked the middle cage. (And we were more worried about the dog, because we had never done this before with her.)
Anyway, we finally went on a little vacation that we have not done in almost eight years, spent almost every penny we brought with us, had a very good time with lots of memories, and everyone lived!
Bears' Den Cabin
I need to give credit to the photographer here. All the pictures taken of the cabin except for the one she is in was taken by the Princess. She has a very good eye for taking pictures, especially the one of her friend on the porch swing.
(
I have to insert here that I am very frustrated with Photobucket as it used to have a feature so that the pictures in the slide show could be placed in the desired order, but it is completely reformatted and I cannot find any way to do it now. Very frustrating
!) UPDATE: Yay! All the pictures are showing in the order I wanted for the slideshows now!
Hot Rods
My friend went once and then gave me her second ticket, but I could not drive and take pictures of me driving, but I will add any she sends to me. The Princess had never driven a go-cart before, but she has driven our riding lawn mower under supervision. Still, she was cautious the first time. Afterward, she went all out.
Hot Air Balloon
Okay, the hot air balloon was actually filled with helium and the "hot rods" where actually go carts, but since the weather was on the cool side for most of our trip, I tried to think warmer.
Old Mill
On Sunday we had to check out before 10:00 AM and we decided to have a late breakfast out in the historical area of Pigeon Forge as well as stop in a few shops, including a candy shop with fudge and salt water taffy made on the premises. It was relaxing for us ladies, but after grabbing the candy, the guys and little girls could not wait to go-cart race again before heading home. By the way, all these pictures were taken by the Princess. (She is so very good at taking pictures!)

~ My Lord, thank you, thank you, thank you for good times and good food, and most of all for good friends with which to share them. ~