It is impossible to get exhausted in work for God. We get exhausted because we try to do God's work in our own way. ~Oswald Chambers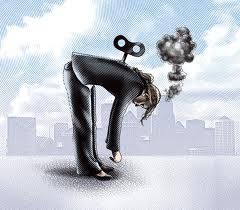 Have you been wondering where I have been? Lots of things have been going on. My husband, my daughter, and I have cluttered our home and our lives so much with things that are really unimportant and not necessary for the plans God has for us, so we have plans to clean out some things and rearrange some others. My husband finally had a week off, this week. We had big plans...and some of them actually did get done or at least worked on. Unfortunately, I had far more work to do than energy to do it. I need to be rewound!
We all went to the Open House at Home Study Center two Tuesdays ago. I have known about this school for some years and have heard only good things. They teach science from a creation viewpoint and the teacher, Miss Penney, is energetic and enthusiastic with an English accent that reminds me of someone dear to me (Hi, Ganeida!) although she was originally from Southern Africa. My husband and I both feel that a science class with a teacher, peers, and lots of lab work and projects would be very good for the Princess at this point. Yesterday, the Princess and I dropped off her paperwork and the check for the application fee. Today we agreed on an appointment time for an informal interview in July. The Princess will take the 7th grade Life Science for 2
½ hours weekly
on Wednesdays.
Yes, Wednesdays are usually my fasting days, but come September when the class starts, my weekly fasting day will be Tuesday. It has been arranged to move her piano lessons to be after the science class as the two are only about 15-20 minutes apart. I will have a chunk of time to go shopping alone or something. I have not thought it all out completely with my errands, but I am confident that it will work out well.
One of our outside cats, Midnight, we did not see for three days. She finally came home a bit thin with a cold-like symptoms and has been staying close to home ever since, and she gave me another tick. I am wondering if she gets a tick on her and then is out of commission for a day or so, because she tends to go off for a day or two now and then, but does not come to the bell we have used since she was a kitten to call her for food. You can hear that thing throughout the entire neighborhood!
While we were on errands yesterday, my husband stayed home to watch the installment of our new roof. We found a company that quoted us $1,000 less than the others around and it looks as if they did a very good job--we shall see when it rains next.
My husband worked on fixing his ATV and built a new cage for the breeding does when they are kindling. He also started cleaning up his work bench in the garage and replaced the broken part on our Bowflex. The Princess is now at a size where she can use our workout equipment and she has been pressing me to add "Phys Ed" to our homeschool schedule since she read about the class in schools in a book.
I have been working on some of the gardens, not the ones next to the house as I knew it would be messy after the roof work was done. I also removed the Princess' kid easel, which was sold on Craigslist, and a bin storage item that was for toys was moved out of the room but I am not sure what to do with it yet, and my husband cleaned up around his desk, so I then had some space to move some things around in the homeschool/office room. I also worked some in the art/craft room but we just need to sell get rid of some things and get some other things to make it work better in there. We are several steps closer but it is far from done.
It seems I should have got more done but I was extremely tired much of this week and today my indoor cat, Jamie, has my attention. He is sixteen years old. Lately, he has been hiding away in strange places and does not seem to hear us anymore or does not want to come to us because he rather not move--it is difficult to tell--because he is having some pain. Perhaps some of the extra tiredness and pain I have been having is from him--it happens with the gift of empathy that the illnesses of the living beings around me sneak up on me and I cannot shake the problems. My husband wanted me to rest on Saturday after he saw how extremely tired I had gotten Friday for the amount of work I did, so I spent some time with Jamie, who is currently confined to the office/homeschool room with his box and food and only about three good hiding places. He would not come for his breakfast nibbles and it took us half the morning searching to find him under the stairs and then take out enough stuff so I could get to him as he would not come to me. He currently is on my lap, but that gets uncomfortable for him in time and then he looks for a good hiding place.
Life is change. Some are welcome, some are hard work, some are sad, some are just plain inevitable, some are exhausting, and some are refreshing. I wonder often if heaven will have changes and what they will be like.
~ My Lord, thank you so much for the week my husband was home to get work done and rest from work. Please, energize me to finish the work we have yet to do so that my daughter and I will finally have the art studio we need.~