The horse is God's gift to mankind. ~Arabian Proverb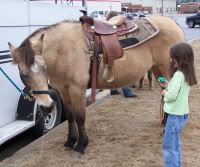 I have come to appreciate the freedom of not being in a homeschool group, the subject I wrote about yesterday. In a way, being in a homeschool group was the easy way and would likely get myself into a homeschool rut, keeping me from looking around to the various events, activities, clubs, and other opportunities our community offers.

I feel that I should take a moment to give credit to Whom credit is most definitely due. My Lord heard my prayers and remembered. Since even before I was pregnant with my daughter, I prayed to my Lord for many things for her, but of them this one was the most unlikely to me: She would ride horses.

It was unlikely because we do not have horses. We possibly did have the finances for horses at one time, but no time or space for them. Now we really don't have the finances or space. We also did not know anyone near us with horses. However, members of my family have been horse people, so to speak, and I think the desire is just in the blood.

It probably should not have been any surprise, after I gave up on homeschooling groups, that the Lord led us right into the one thing that fit us very well. At a fair, there was a horse ride and from the moment my Princess sat the horse, she looked as if she was born to it--such confidence, even with her feet dangling well above the stirrups! All I could think was my grandfather would have loved seeing her and my heart ached.



God will make a way, when there seems to be no way.



That three dollar ride led us to the the local 4-H Horse and Pony Club, which she joined soon after. It is well organized and very active, and unlike the other local 4-H clubs, it allowed younger members. It also meets in the late evening once a month just five minutes from my house and schedules all its activities around a school schedule, mostly late evenings and weekends so even if my husband is working from home, he can usually get home in time for us to make the meeting,

usually

. It is a very large group with all ages, some home, private, and public schoolers as well as people of all religions. I have yet to witness any parent behave in a way that causes me concern.

One of the things I love most: There are sign up sheets to inform them of who plans to attend special events and who plans to help out, but there is no requirements to fulfill so I cannot lose membership just because I signed up for something and did not make it. Plus, they always appreciate extra hands to just show up.

Miss Annette, (addressing with "miss" and "mister" before the first name is a southern thing) who oversees the club, has horses, mostly miniatures. She has opened her place to the members to use her horses for training. Teen 4-H members with more experience offer horseback riding lessons for $15 for about 30 to 45 minutes on the horse and about another 30 to 45 on the ground learning about and caring for the horse. We have not begun this, as I was hoping some of our finances would free up, but I have considering how opportunities can pass us by as my daughter matures. It seems the years are just slipping by now so, for some things, I will just

have

to do it while she is young and rely on my Lord to provide.

One of the things I really like about the 4-H club is that my daughter is learning the format for formal meetings and presentations, which the older children run themselves, and she is doing lots of community and charity work as well as learning about horses. With her enthusiasm, drive, and friendly ways, I can envision her as a popular choice for a future officer in the club.

We still do not have any prospects of owning a horse at this time, but if the Lord wants it for her, He will provide it--of that, I have no doubt! Plus, she is having so much fun! For us, this has worked out far better than a homeschool group.
~ My Lord, sometimes I wonder if I asked for the things You already planned, or if You are giving me the things for which I asked, just because I asked for them. Either way, my Lord, I thank You for it all, particularly taking away the things that get in the way of Your plan. ~