Writing is easy: All you do is sit staring at a blank sheet of paper until drops of blood form on your forehead. ~Gene Fowler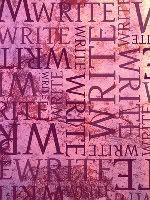 We have been in a whirlwind of activities lately, which is why I have not been writing much: some I have written about, some I cannot post at this time or surprises will be spoiled, and other concerns occupying my thoughts I simply cannot place on this blog for one good reason or another. So, every time I tried clearing my mind and sat down to write, I was either falling asleep from exhaustion or my mind went completely blank--too much clearing of the mind, perhaps!

So, here I sit with my laptop on my lap, not particularly inspired.

What to write?

All I can think of is trying to get started to write. It is said a writer writes always.

Well, that was not particularly helpful.

Once a professional editor/writer told me to just start writing whatever thoughts I had, even if I was to write about a certain topic, and something will take shape. All this while, the writing itself consumes my thoughts.

Write about writing...? From out of a dismal abyss a memory emerges, one full of irony tickling dormant brain synapses out of their slumber: junior high school. When I was in eighth grade my grades slipped in two subjects quite sharply. I quite am ashamed to admit it, but I went from being a nearly straight A student in sixth and seventh grades to having three D's in eighth. Science, which I had always loved, was one of the subjects and the other was English, which had always been easy for me. These were the only D's I ever received during my school years. What happened?

Teachers

are what happened!

The teachers I had in those subjects that year nearly killed my love of learning altogether. My science teacher gave us long projects so he would not have to be in the classroom at all and he wasn't. This left us in teams to work mostly unsupervised and on my team was a girl, who had relished bullying me for the last five years. My English teacher, on the other hand, was the type who covered all the basics in an oppressing manner and gave us no opportunity to apply them. I had a difficult time staying mentally engaged in her class.

As I was picking subjects for my first year of high school, my eighth grade English teacher said that she could not recommend me for the College Prep English course I had chosen. I remember telling her I was sure I could do it and that the ninth grade teacher would be able to tell if I could cut it in her class within the first few weeks. It may have been that my test scores supported my argument indicating I was what they like to call an "underachiever," because teachers just don't like to use straightforward terms like "bored completely out of her little pea-picking brain."

I did get the course I chose in ninth grade and I LOVED it. It was advanced and moved at a pace that kept my interest. Every week we were required to write a theme at a least one page long but no more than two. We were given the subject on Friday and it was due the following Friday. We did things like sentence diagramming and learned more terms about grammar and the proper use of grammar than I remember today, most likely, but the foundations were well laid. I know that I learned more in that one year than I did in the next three years after switching schools because of a move. Those following three years I was again bored out of my skull, but this time the knowledge was already in my head and it came spilling out, so my grades did not suffer.

More importantly, I gained confidence to write with a deadline, within a certain criteria, with good grammar,...and I learned to

love

writing. Years later I worked from home writing résumés for a company specializing in finding people overseas jobs. They usually only would hire college students or graduates, but after seeing a few examples of my work, they took me on with just my high school diploma. They had their own restrictive format keeping each no more than two pages, therefore the writing was easy in that one way but also more challenging to get one noticed more than another using descriptive summaries with the available information.

From that time on I have protracted my self-deception believing I just have

had

to write for various reasons associated with business or making a minuscule bit of money, but as I reflect on this I find that the truth is I have found reasons to write because I enjoy it. Yet, I don't think I would have been as confident in writing had it not been for that one class I almost did not get the opportunity to take.
~ Thank you, my Lord, for giving me the opportunities to write for my own enjoyment and to share my writing for the enjoyment of others. Guide me, my Lord, to use it to glorify You more. ~