No man needs a vacation so much as the person who has just had one.
~Elbert Hubbard
My husband scheduled his vacation this week due to some tight work schedules coming up. We thought we might be going down to Florida to visit his parents, but it was decided that their health issues and appointments would make for poor timing. We have more than few projects to do here at home. My husband picked refinishing the back deck and the front porch.

In the late spring of 2004, my dearest felt strongly that we needed a hot tub and not just any hot tub but a Bullfrog--

quite

pricey! However, it does have some very nice features like the interchangeable JetPaks so they can be moved to different seats or replaced easily. Plus, all the tubing is inside the tub not on the outside where they cool more easily, making it much more efficient.

Normally, I see the price tag and just say no, but the health minded side of me could see the therapeutic value. I reasoned that it be like having a personal massage therapist on call and could lessen the number of chiropractic visits and those infrequent but absolutely necessary massages for our back pains. Now the thing was that we had no level place to put the hot tub except on the back deck, which was a bit small for it, of course.

The entire deck had been rebuilt a year before we bought our house because a tree had hit it during a strong storm. Actually, our deck was rebuilt to be twice as big as all the others in our subdivision, but it was built badly. My husband went to work to create a new deck.


Not just a regular deck, mind you, but a bit of fancy

had

to be added using the old framing with a half circular addition. He decided to make the spa sunken which meant that it would need its own well supported platform under the deck floor. This would all need to be customized to fit the spa of choice as well.


Then it was my turn! I never liked the stairs coming down from the deck. I am talking twelve open,

steep

steps straight down and a three year old--need I say more?--so I asked my husband to also rebuild the stairs so they were not so steep and place a landing near the crepe myrtle tree that would turn the rest of the few steps at about a 45 degree angle towards the yard with wider bottom steps. I was thinking that sometime in the future we would level the upper portion of the yard and have part of it done with paving bricks. The yard project still has not even begun, but I have my hopes.


My husband even surprised me with an interesting design in the gate with left over pieces!

You may have noticed in the first picture that the then-three-year-old Princess is holding something. That something is Sammy Lamby. In the second picture, you may notice a dark cat lying on the step just below the landing. That was Smoke, as I called him. He adopted us soon after he found he had nothing to fear with our dogs, even though he was a neighbor's cat named Dusty. He was well treated there, but he had competition. So, Smoke was my cat in every other way until...the Princess. He then adored her even more and became her shadow.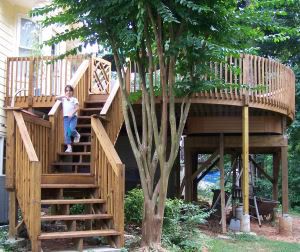 The deck has not been completely finished to date. The top railing has not been done yet, but it will be, I am told. Anyway, the wood was way overdue for refinishing, and a few bad boards needed replaced, including one support, so that is how my husband and I spent part of his vacation, staining the deck in between showers of rain.

The front porch needed a new facing on the ceiling, which we got up. Pressure washing, and painting the ceiling and railing will be done at another time, but our goal is to have it done before December. (I did mention his tight work schedule coming up with a trip to Israel for training included, so we shall see how that goes.)

All in all, it has been a productive vacation. (Isn't that an oxymoron?) We also rested and did a few fun and frivolous things--one for which I need to prepare right now, in fact, so I will be writing more about our vacation week later on.
~ Thank you, my Lord, for the time to do things for which we have no time, and for my husband being such a talented craftsman. ~