Change is the only constant. ~Proverb
I have always said the one thing I can count on in this existence is that everything will change. My husband was hoping to be home this week, but he left this the morning to pick up a rental car and will be gone for the rest of the week. I am disappointed, but not surprised. This is the way of things often here.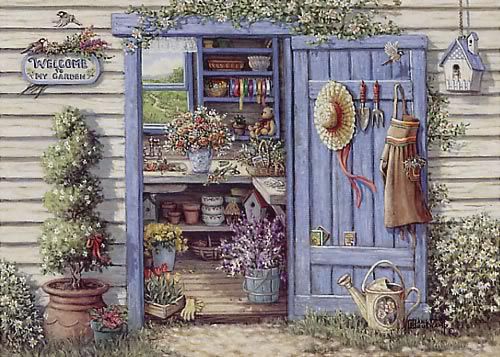 This weekend on both Saturday and Sunday, the weather was cool and beautiful, so after not doing any real gardening for a very long time, I began cleaning up my herb garden. You know, you really cannot turn your back on mountain mint. All mints are invasive and tenacious, but mountain mint goes far beyond all expectations and strangled out nearly everything else, including six or seven other mints. I am thankful that it runs along the surface with shallow roots, so I actually could pull up and roll back a three inch thick root matting. It seems the only herb survivors where garlic chives, lemon balm, sweet woodruff, strawberries (okay, not an herb, but I like variety in my garden), fennel, rue, echinacea, and tarragon, which cuts my herb garden down to a small fraction of what it used to be. It was hard work and I had some sore muscles, but...well, I have a little secret that always works for sore muscles and this morning I had no soreness left at all. Today it rained so gardening was not going to be done. I have about half of the herb garden cleared away, but the hardest part is still before me.

The next three weekends are all planned out. This weekend is the spring piano recital which will take up our day from lunch time to dinner time on Saturday and Sunday is a church family cookout in the evening. The next weekend is a 4-H field trip in the morning and the Princess's birthday tea in the afternoon on Saturday. On the next Tuesday, the 4-H Club has its awards dinner and I have promised to bring food for that. That Friday, my husband is having a minor surgery to remove three cysts in his hand and wrist areas and the next day is the Spring Fling with the face painting for the 4-H Club until mid afternoon and then a mother and daughter tea at our church in the evening. Whew!

Yesterday, I did my twenty minutes working on a clutter spot. I started with the guest room and today I competed it. I probably could have done it all in just twenty minutes total, but I was organizing the clothing for a yard sale and/or the fall consignment sale. I have done well for two days in a row with my "twenty minutes a day, clutter away" commitment and am looking forward decluttering other areas!

Of course, we did lessons most of the day yesterday and today with added piano time in preparation for the recital. As for homemaking, I vacuumed all the floors in the main levels and the stairs yesterday, but my husband was on the phone off and on in the office area, so I vacuumed the office area today. Yesterday afternoon, I did a load of whites and folded it and other load of jeans left in the dryer, while the Princess finished her math—as I have found that if I split her math into two and have her do the second half after lunch, she gets it all done in record time...for her.

Tomorrow, I may take advantage of a 15 percent discount plus a $10 off coupon at Kohl's when I am out to do a few local errands.
~ My Lord, please bless my efforts to stay focus on the upcoming tasks even while many things are uncertain and changing from week to week. I ask that You bless my daughter's upcoming performance and that she will always use her talents to Your Glory. ~