Everything I know I learned from my cat: When you're hungry, eat. When you're tired, nap in a sunbeam. When you go to the vet's, pee on your owner. ~Gary Smith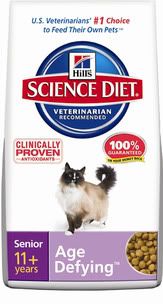 As a rule, I really do not like changing my pets' food because it often causes problems, even when I do it very gradually. You see, my pets have eaten organic pet food for years; I have also done a raw food and bones diet and even made soft food, when I had a particularly elderly dog that lived far beyond her time so the conventional veterinarian told us:
What I Learned from an Aging Dog
.
Because I have a 15-year old cat, I accepted an offer for a free bag of Hill's® Science Diet® Senior 11+ Age Defying™ Cat Food as a
Bzzagent Campaign
, along with some $3.00 off coupons to give away to my cat-loving friends. I am a somewhat familiar with Science Diet because it was recommended to us when one of our dogs was suspected to have developed food sensitivities or allergies to his usual food and just a short-term switch of foods seem to do well for him, but we always went back to an organic and natural diet with all our pets as those seem to do the best for them.
It was with mixed feelings of apprehension and hope that I slowly began mixing in this new Science Diet Cat Food to my cat's regular organic food, without changing anything else in his routine. It was obvious that he liked the taste of it, but he is not that discerning between what tastes good and what is good for him. He began to have some diarrhea, which he has been known to have upon occasion, but this symptom worsened as the amount of the new food increased and instead of fewer "accidents" outside of the cat box, which were rare, he has had more. I have decided to place him back on the previous food and watch him to be sure he does not get dehydrated. His energy level also seemed to lower a bit, but I think he will return to his typical give-me-attention-NOW-or-I-will-annoy-you-to-death self in a day or two after his system has cleared out the new food.
I would like to say that just because my cat had an undesirable reaction does not mean that every cat will. I am a strong believer that there is no one diet that fits all and it just could be that my cat is either healthier than most older cats (as he seems to be) and that one of the supplements such as the magnesium oxide, which has a laxative effect, was too strong for him because it was not in his previous food, or it could be that he has an allergy to one or more of the ingredients. It seems I end up with sensitive animals in that respect.
Even though this new food is not working out well for my cat, I have had better results with Science Diet with other pets in the past and I encourage you to visit to the
Science Diet website
. There you can sign up for a chance to win the Spa Resort Vacation, take the "Is Your Cat as Old as You Think?" quiz, and get a $3.00 off coupon for this product!
~ My Lord, thank you for the giving me the opportunity to try new things so that I am aware of them, even when they do not work out for me, because it might be exactly what someone else needs and I can pass on the information. ~