It has been said that art is a tryst, for in the joy of it maker and beholder meet. ~Kojiro Tomita
Saturday we were planning on being at a 4-H horse clinic for the day, but it was canceled because of the rain forecast. My husband could not really do anything he planned after slicing a large chunk of skin off the tip of his thumb the night before. And, here I was with a Christmas gift of two free adult tickets (children are free) to the Booth Western Art Museum from Miss Annette expiring that day, so we went there.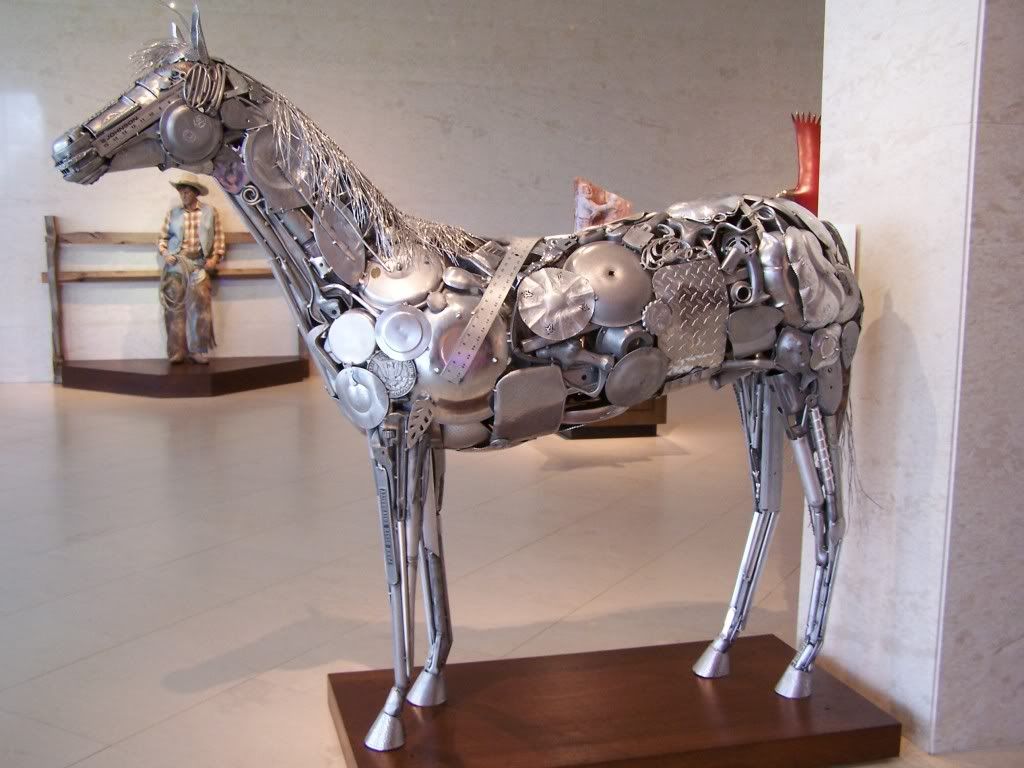 I was just amazed at the energy, use of light, and photorealism of some of the work. I now think I may have to try my hand with oils. My husband does not like most modern art and I am a bit more forgiving in that way, but not much. We all like the one pictured above and we all like the bronze sculptures, but since I knew a bit about the process, I think I was far more appreciative of the work than my companions. I decided that my favorite painting was a man beside his horse on the prairie by a steam at that golden hour of the setting sun. I think it was called "Quiet on the Prairie" or something like that. Picture taking of the works in that gallery were not allowed, but the serenity of it is remembered.
You might be curious how truthful I was that day. I have no problems with expressing my criticism and appreciation of art, but I was alone most of the time. Apparently, I take far too long to examine brush strokes up close and then back up to experience how the eye blends, boring stuff for a ten-year-old artist who already knows everything she needs to know about art, or so she thinks, and man who either likes it or not, but could not care less how it was made to look that way. We were there until closing time. While we saw everything, I could have stayed a few hours more.
My truthful promise was not a problem at the museum; it was, however, challenged on the way when I saw a man on a roof. My husband stated that he saw three men on the roof...and added that he also saw a goat on the roof. My daughter saw the men, but no goat. My husband went on about the goat and I could see were this was going. I caught myself about to give a detailed description of the unseen goat that had not been there, but I stopped myself and stood firm with I only saw one man, personally, which was the truth. Whew! That was a close one.
~ My Lord, thank you for artists and that we have museums in which all people can enjoy their work. ~