Will God ever ask you to do something you are not able to do? The answer is yes--all the time! It must be that way, for God's glory and kingdom. If we function according to our ability alone, we get the glory; if we function according to the power of the Spirit within us, God gets the glory. He wants to reveal Himself to a watching world.
~Henry T. Blackaby, Experiencing the Spirit: The Power of Pentecost Every Day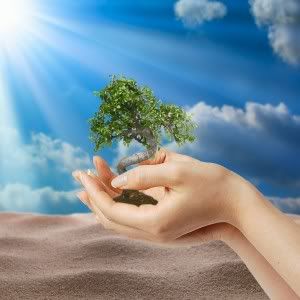 I have begun to think of each church service as a gardening experience with our hearts being the soil where we should want God's Spirit to take root and grow. Unfortunately, we all have some weeds that need to be uprooted because the heart's soil is vulnerable to so many kinds of seeds, and weeds can grow fast to choke out the Beauty purposely planted. Our hearts must be prepared and willing to have the Gardener pluck those weeds out. Our church services have sermons to cultivate spiritual understanding so we will bear the fruit of the Spirit. The praise and worship through music is the nourishment that prepares the soil and feeds the plant. Music is the orchestration of both rain and sunlight. It breaks up the hardened soil and moistens it with spiritual tears so that not only the Spirit's seeds easily spout, but that weeds are easily pulled out.
I wonder each week which seeds have taken root and grown. If each garden was well tended during the week, or if we are starting all over again with weeding and working hardened soil trying to give the Spirit every opportunity to break through.
Leading praise and worship is not a task, but a ministry. I knew that when I accepted the position. I knew that I would do it differently than it had been done. I also knew that I would do it well...NOT because I knew how to do it, but because I would devote it all, with my abilities and inabilities, completely to my Lord. I would sing with a weak voice to glorify His strength and He healed my vocal chords. I would listen to music and pray each week about which songs would please my Lord to be sung in the next service and then listen to Him as He guided the selection process. I was receiving compliments, which I admit was so encouraging to me personally, but I had to pass all to the One who deserved the credit and not consider compliments to be important to myself. I did not accept this ministry to please anyone else but my Lord.
I just have to write that again with emphasis (for me)!
I did not do it because I desired or even like the responsibility of church leadership.
I did not do it to win approval from the church members.
I did not do it to continue how it was done before.
I did not accepted the praise and worship
ministry

to please anyone b

ut

my Lord!
This week the opportunity to be reminded of this conviction was provided. It was a merely a suggestion to change my approach done in the nicest way, but it made me think and pray and pray and pray and...stop praying to listen closely for the words from my Lord. Talking with God is always such a good thing! Adversity's greatest virtue is that it brings a person to his knees with a broken spirit seeking God's heart on the matter. So, let me praise in adversity, my Lord!
What can I say? There was a time that I might have done the same and I still might again. I may have suggested something to be done in a way that I would like more and have good reasons to back it up--but the only good reason is because it comes from the Lord, otherwise it does not necessarily have His blessing. Church people must to be open to change, I included as well, but more so, we need to be willing to change
towards
pleasing God more and more. My little heart is not without its own stubborn weeds, so I needed to take some time with my Lord to be sure I actually
am
pleasing Him with how I am doing everything.
My Lord reminded me that he healed my vocals cords, which He knew I wanted but did not ask for as a sign that I should accept the responsibilities of this ministry. He reminded me of how I go to Him each week in prayer while choosing songs. He reminded me of the times I had some songs in mind and that I scrapped all that work at the last minute on Saturday to use the songs He gave me then or that I was awaken early Sunday morning to change one song out for another or the order of the songs or add something else to the service I had not planned. That is God's doing because I like to know what I am going to do well in advance.
My weakness, His strength.
I am not without my weeds, but God reminded me of my willingness to listen and be guided and my heart's desire to please Him. Now I again have peace.
~ My Lord, how beautiful You are. Pull out the weeds of my own heart so that people will see the Beauty of You through me. Help the people of my church hear and feel the prayers and pleadings of their hearts in the songs we sing. Let our songs be pleasing to You. ~