We owe something to extravagance, for thrift and adventure seldom go hand in hand. ~Jennie Churchill
My husband is finally coming home today. He has been away for nearly three weeks. I am used to him being gone during most or all weekdays—well, as used to it as one gets, I suppose—but when he is gone over the weekends as well, it wears on me. Although we talk every day, most of the time, and some days three or four times, I still feel disconnected with him when he comes home and it might be that he will be home only a few days.
I used to start a project of some sort when he was going to be gone for a longer than a week, but it is difficult with homeschooling to dive into an all-consuming project. This time my "project" was Craigslist as I found this wonderful free app for my Kindle for it. I wish I could say the main project was selling items on Craigslist, but it was more about buying items on Craigslist, although yesterday I did sell and deliver the Loving Family dollhouse I had listed for $60 with and additional $5 for the delivery. I do have more items to place on Craigslist too, instead of waiting for the next consignment sale in the fall, but the highest priority was getting a desk for the Princess so she could reorganize her things and we could move the table she had been using into the art studio area (when it gets cleaning up) and then I could list the whiteboard/chalkboard/art easel, toy bins, and small chairs to sell, which I will be doing soon.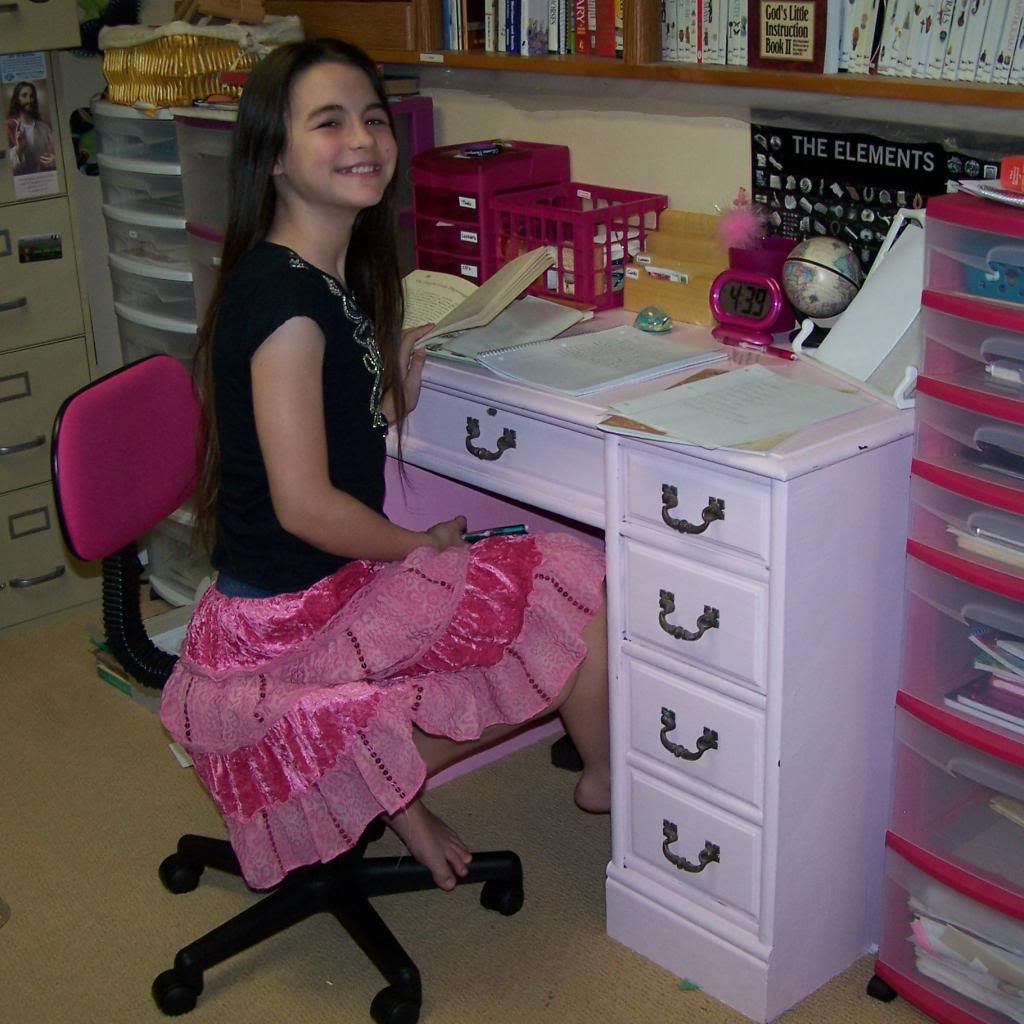 In the last three weeks, I bought and picked up: a shabby chic pink desk for the Princess for $45 that she adores and while it is a rough finish to cover damaged surfaces and edges, the drawers work like it is new; a rebounder (a small trampoline for working out) in like new condition for $15; a baker's rack that will be used for gardening items and plants on my front porch for $60, and a barely used Jack Lalanne Power Juicer Pro, which is the top of the line stainless steel one, for $45, but I soon realized that it missed a tool that I need to take it apart to clean it after use so I have not yet used it and I ordered it for $8 with shipping included (I know,
another
juicer but this one is an extractor with a larger opening so I do not have to chop up all the vegetables so much as I do with the one that does everything and wheat grass too).
I also bought some other things online: a brand new soap dispenser for $24 to match the new kitchen sink faucet my husband replaced a few months ago when the other one completely broke (our sink has four holes and the new faucet with one soap dispenser used three of them so hand soap will be in the second one, but the thing was rather expensive for being all plastic made to look like stainless steel); another rotating case for my Kindle at $9 that is lime color and lighter in weight as the other one is heavy and the elastic band is coming apart already, and that one was $35; a computer game called Rhem 4 for $6 that is supposed to be similar to the later Myst games that I loved so much, as if I will ever get time to play it, but sometimes the Princess and I play those games together for fun in the cool of the basement office during a hot afternoon and this one I will not know in advance. Since I got all these from Amazon, the shipping was free.
The Princess also bought a Zeepad and a light pink cover for it, all for $81 from Amazon, with her gift money saved from Christmases and birthdays, so now she has her own tablet and does not need to ask me for my Kindle to play games. It is pretty decent for the price. Yesterday while shopping in a Whole Foods store she was busy on her Zeepad. I thought she was playing a game and I was about to say something, but then I realized she was thumb typing or texting but on email (I am probably behind on the proper tech terms). She was typing an email to her father because she saw that Wi-Fi was available. I looked at it and told her that while it was available, she was not yet connected, so we did that.
This is an odd age and it comes with strange feelings. I like that she was emailing her father, just sharing her day with him, but I also did not like her being distracted when she should be spending the time with me as I shopped. Still, this was only one time and she is a pretty balanced child. When she first got her Zeepad I thought she would be glued to it for at least a day or two, but she went out that evening and the next day to play with a friend. We both have come to realize that she cannot play games or even read in the car much as it makes her car sick—I now feel terrible that I used to make her do some lessons in the car, about which she would fight with me and I thought she was just being stubborn. She is stubborn about admitting to it being motion sickness though, she still tries to say it is the smell in the van, but she is now conceding that it happens in every vehicle.
There is more to write about that happened when my husband was gone, but his plane has landed and I will be seeing him in about an hour. I feel bad that he is coming home to a woman ready to fall apart physically maybe, emotionally...even more probable. I was hoping I would be in a better condition so we could just enjoy each other when he returns. I have a few more minutes so there is still hope.
~ My Lord, so much has gone on and so little of it was for You. I want to be closer to You so I can be closer to the ones I love and the ones who need Your love. ~