Those gifts are ever more precious which the giver has made precious. ~Ovid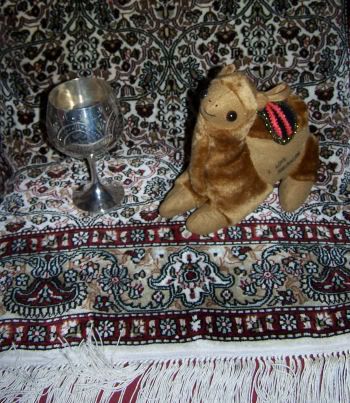 After being away nearly two weeks, my husband came home early yesterday morning bearing gifts from Israel. The rug is silk and so luxurious I am not sure I want to place it on the floor. The silver goblet is also lovely. I also received a Jerusalem cross necklace with a blue stone inlay, which I plan to wear to church tomorrow. We also have a few confections to sample.

The camel was for the the Princess, of course. On his sides is printed "I love Jerusalem" and a squeeze in just the right place he says "I love you" twice. He has been named Jerusalem, not particularly original but sweet.

The Princess was doubly happy because not only was her daddy home but she would not be doing any lessons that day. I heard squeals and laughter as they spent some time together and I had some time alone. Then it was quiet...all

too

quiet. As I entered the room, the child was gesturing for me to be silent as her daddy was asleep sitting up on the couch. I had warned her that he might be rather tired because of the time difference, but even so, I am always impressed with her maturity at such times.

After his early afternoon nap, trying to acclimate back to our time zone, we went out for dinner at the Outback, courtesy of my husband's parents, who sent us a gift card from Outback. Thanks, Mom and Dad!

Afterward we stopped by Michaels to see if the activity planner/calendar I like to get every year was available; It was and just one dollar as usual. While I was looking at other sale items, my husband and daughter picked out a long stem silk rose that "will not die."
~ My Lord, thank You for my family. ~