Therefore be careful how you walk, not as unwise men but as wise, making the most of your time, because the days are evil. So then do not be foolish, but understand what the will of the Lord is. ~Ephesians 5:15-17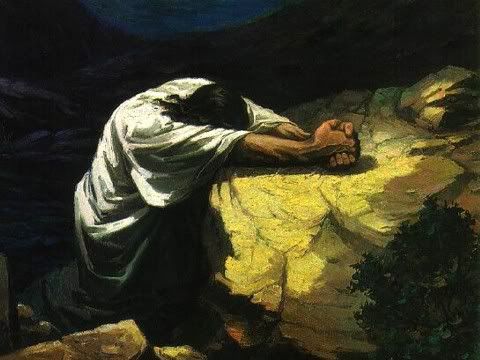 It is difficult to believe in just four days we will have completed our commitment to fast for forty days. Oddly, I am actually nervous about it. (More nervous than than when I sang yesterday, which went pretty well, considering that I have not sang in front of people for sixteen years.) I don't think I have ever been nervous as the end of a fast approached before, but then I don't think any of my fasts ever was in anticipation of whether the church would continue and how it would do so.

Yesterday, during our special prayer time before services, I had a vision, but I was to remain quiet about it at the time. I saw one of the same visions I had before that I wrote about at 40 Days of Fasting with a giant hand plunging a gigantic pole into the ground down to solid rock on our church property. This time there was more: a veil opened up as one would open curtains and I saw that from the pole being plunged there was a rippling effect and the church building and property began changing, being built upon with many cars in the parking lot, but only after the veil had been opened.

Now I wondered if this was not my own imagination as the church board met the day before and it was discussed to look into building another larger room onto the house to be our new sanctuary giving us twice the space to seat people as we have now. We might have enough in the building fund to do that...BUT...our extra money that has been there to help make monthly expenses is now gone and the money coming in is only half of what we need each month, which could mean dipping into the building fund. Double tithing has been suggested and the pastor going part-time also. We still have some hard times and hard decisions to make.

After church service, we picked up a rental car, for my husband would be starting his drive to Orlando later on. I was so tired and hoping to take a nap, but instead my husband and I talked some before he left—we have had such wonderful talks during this fast. I thought I would still have just enough time for a short nap and then to get pets and child fed just before going to evening service, but God had other plans: I was to pray.

So, pray I did, and the tiredness left me. (Isn't God wonderful like that!)

During my talk with my Lord, the symbolism in the vision then became quite clear to me and I felt I was to share this with my pastor after service, which I did. I cannot share it here as it would not be proper. It is an internal, private matter involving individuals, but I would ask you to pray for my church, as many of you have been, because there is some sort of demonic involvement, which is the veil that must be pulled back. This spiritual warfare was confirmed to me by an outside, uninvolved source unfamiliar with the history of our church also.

Spiritual warfare is not my gift, not sure I even want that one, but the reality is that all Christians should experience it and when I say "should" I mean if you have not, you are either not sensitive to spiritual matters or the powers working against my Lord do not find you doing anything worth them trying to interfere. Both conditions say something about a person not being where God would have him be in his relationship with Him. Of course, there are times the Lord is protecting us so we do not experience such things, but even Jesus had brushes with the forces against God!

I once encountered a serious spiritual problem in a newly purchased church and school property when I was a member of another church in another state. Some people, including me, felt ill while in the sanctuary. I was called to fast, pray, and walk the property three times around each day for five days. The problem was resolved completely. With that experience in mind, I asked the Lord if I was to do something like that this time. No, not I...the church body was the answer, but what we were to do was not given to me.

Last night, I gave this information to the pastor, to whom I believe the Lord will give the solution, and asked him to pray about it as well. So, my dear friends, it seems the Lord is now speaking and directing us again, not that our wait is completely over, but that He has some things for us to do...I hope we will do them as needed and it will be pleasing to Him. If you are willing, please continue to pray that all in my church hear the Lord clearly and act according to what He would have us do.

I thank you all for caring so much about this.
~ My Lord, this is Your church to do as You will. I think we just want to be sure we are in Your will and that means it needs to be clearly known to all of us. Please, my Lord, make Your will known and make us willing to sacrifice whatever You require to fulfill Your will. ~