There are two types of fisherman - those who fish for sport and those who fish for fish. ~Author Unknown
We have been going to Cave Spring, Georgia for years. During one visit some years ago we were told about the Kids Fishing Rodeo that was a new annual event the day before Father's Day so we have been going to that since 2006, although we did not make one year because my husband was away. Here is my post on it last year:
Fishing Rodeo at Cave Spring
.
The Princess has not caught even one fish since we have been going although she has won a prize in the draw every year except last year; this year she won a mess kit for camping. As to the fishing, one year some people netted the pond against the posted warning and the sponsors had to restock it in a hurry for the rodeo, but hardly anyone caught any fish and they were not as large as what had been there. Last year there were so many people and the fish were not biting much then so it was disappointing for everyone. However, this year there was less of a crowd and plenty of large, hungry trout. Many kids most with the help of a parent, caught their limit of five for the day out of the pond, but they could fish in the creek for more.
Although the Princess caught only one...well, she caught
one
and it made a nice Father's Day meal with my cole slaw (made last night) and sourdough knotted rolls along with some leftovers. Later this evening, since there is no church service, we will have this apple pie I made this morning before leaving for church. Oh, and the Princess played "This is My Father's World" for the offertory during morning service, which she prepared in just one week.
Do you think my man might be happy this Father's Day?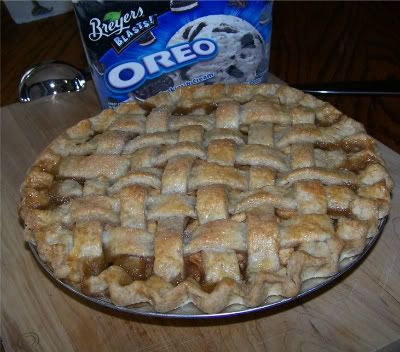 ~ Thank you, my Lord, for hearing my prayers asking that my daughter would catch at least one fish this year. It really meant so much to her and was a nice Father's Day gift for her father, too. ~