To show a child what once delighted you, to find the child's delight added to your own - this is happiness. ~Joseph Priestley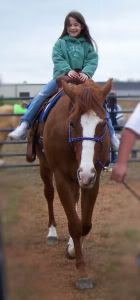 I don't know where to begin! Two weeks ago my husband was working in Orlando, Florida and things were rather complicated, so he offered to stay over last weekend to visit his parents saving the company some money instead of flying him back and forth. During the time he was there, his father ended up being admitted into the hospital, thankfully it was mostly as a precaution and he was there only a few days.
My husband then flew to Cleveland, Ohio on Wednesday and was planning on coming home early Friday, but plans were changed again and he instead drove to Columbus, Ohio on Friday and was planning to fly home that evening. Still another change, he would not be back until Saturday morning, and this caused a bit of a quandary about picking him up at the airport.
Now most weeks, this would not be a problem, but this weekend was Easter.
The week before I had purchased about eighty plastic eggs and filled them with candy. On Tuesday evening, we dropped off about fifty of them at the 4-H Horse and Pony Club meeting place so they would be used for the Spring Fling: 9:00 a.m. to 3:00 p.m. was spoken for in our Saturday schedule.
Also, on our schedule for Saturday, was an hour event for children at our church with a story, craft, and egg hunt from 2:00 p.m. to 3:00 p.m. a bit of a conflict in time there, but we planned to leave the Spring Fling early. I dropped off about thirty eggs at the pastor's home on the preceding Thursday morning at the beginning of our usual errands for that day.
In the meantime, I tried to shop to get some of those special things that magically show up on Easter morning even though the Princess was with me the entire time. Usually, my husband and I play tag team between the responsibilities of taking the child and the holiday shopping, but he had, inconveniently, not been home for two weeks.
I really don't know what I was thinking, perhaps I just look for ways to complicate my life...? I decided to add making cookies when I saw a sweet cookie cutter set with a lamb, bunny, chick, flower, and butterfly earlier in the week while out shopping for the candy to put in the eggs. I decided to make these cookies on Friday, but I also decided that we needed to do a bit of shopping that day. When we came home and had put everything away, I was finally ready to make the cookies that we would bring for the adults at the church and for our neighbor on Easter. It was then that I finally looked at the place where I had left out two sticks of butter to soften to realize they were not there. No wonder, Hanah, our German Shepherd dog (GSD) looked so guilty when we walked in the door. Normally, I would have put the butter in a safer place before we left, but I had completely forgotten about it. Odd thing, I did not find any of the wrapping or even a greasy spot anywhere. At least, she cleaned up everything well.
So, then I needed to wait a bit for the next two sticks of butter to soften. We were doing tender butter cookies as a cut out, which requires the dough to be rolled out between wax paper sheets and then placed in a freezer for about 15 minutes, before the cut out process. This way they hold their shape making them look quite uniformed and they are easier to move to a cookie sheet without tearing and then there is the icing, a high gloss that takes a few hours to completely set. We started before my daughter went to bed, so she could do all the cut out part, which requires to knead the remaining together, rolling out again, and then refreezing. She was in bed while they were baking. After they cooled, I did the icing which used about twice the milk and corn syrup suggested, but they looked very professional and tasted great. The recipes I used are here:
Pope's Valentine Cookies
and
Sugar Cookie Icing
. (It takes about 1½ of the icing recipe to do a batch of the cookies and they all fit on two large baking sheets as these cookies do not puff much.)
The unfortunate part is the length of time it took me to make these particularly tasty morsels. Besides cleaning up from the baking, I had two other things I really wanted to clean up before I went to bed for the night, so in FlyLady style, I set a timer for fifteen minutes and went for it. It was then just after 1:00 a.m., but I was not able to just sleep right away, so I read a bit. Right now I am in the middle of Edgar Rice Burroughs'
A Princess of Mars
, a book I had read when I was a young teenager that I have been wanting to read again for years, particularly after my aunt gave me my grandfather's set of first editions--the same set I read those many years ago.
Of course, it was obvious on Saturday morning that I had not gotten enough sleep. With bags under my eyes, I woke a bit later than I hoped and we hurried out the door after 8:00 a.m. We—mostly me, that is, because the Princess was off doing what I would have been doing if I were her—helped set up for the Spring Fling. The Princess was hanging out, as much as she could, with the horses. Later she did help with the egg hunt inside the store where we were located.
I wish—I
so
do wish, considering what I had chosen to wear—I could write about how lovely the day was with a warm sun and a gentle cool breeze. It
was
supposed to be nice just like that, but the weather predictions had changed, I was just too busy to think to check. It was windy and cold and cloudy. Fortunately, the cold does miraculous things with making bags under the eyes disappear. Unfortunately, for a woman with a light sweater over a short sleeve shirt, there was no sunshine showing through at all. Still shivering two hours later, I called my husband to see if he was on the ground yet, in hopes that he would be my knight in shining armor by stopping at home to pick up warm jackets for the Princess and me. Since we had plans when his plane was due to arrive, he arranged to rent a car for the weekend, as he rents cars for work so often that there are weekend discounts and other perks. Not only had his flight arrived, but he was at the office; sadly, I would endure yet another hour.

The turn-out was not what we had hoped at the Spring Fling, but that gave me more opportunity to talk with one woman, Melanie, who was doing face painting, even though she had the busiest booth later on. The Princess was her first customer getting a unicorn on the cheek and then later on we went for scrolls on the other side. Melanie shared how she recently started and the cost involved. She is also a homeschooling mother and was hoping to do face painting as a means to get debt free (another Dave Ramsey fan) and pay for homeschool curriculum. We had many other things in common as well.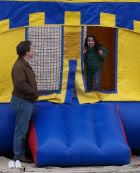 My husband finally arrived...with our jackets! My hero! We had not seen him for two weeks and almost all that time we had been keeping a secret. The Princess had lost her top front tooth and he noticed right away. Now, with Daddy in tow, the Princess had some fun jumping in the inflatable and riding Red. I had asked her to wait until he got there so he could see her doing those things.

I enjoy encouraging an artist to be creative, so I decided to have Melanie paint my face as well, before we left when she was not busy. I told her to pick a design that she had been wanting to try, after all it washes off with soap and water. She was tickled saying she would do it for free, but all the money she took in went to the club so I paid. I am thinking that I could do face painting for the upcoming rummage sale at the church with proceeds going to the building fund. The church also does a booth in the fall at a park and other church activities. I have been very excited about the idea ever since! I am sure that the Princess would not mind me practicing on her.
We left the Spring Fling at 1:30 p.m. to get to the church for the activities there. The Princess rode with Daddy—and what a ride! He rented a convertible, so he turned the heat on full and had the top down. She was thrilled! As I said, there are cool perks when you rent cars often. It cost us less for the two days than it would cost others to rent a less flashy car for one day.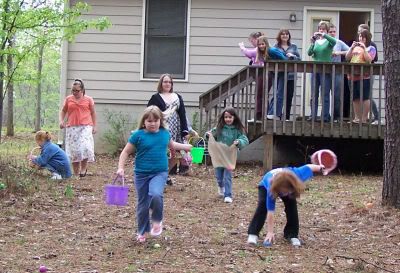 At the church, fourteen children, not counting the teens who were helping out, made a craft and hunted eggs. While the children were crafting a bunny on a popsicle stick, I passed around cookies to the parents. The Princess collected many eggs, all with candy, of course.
Afterward, my husband decided to try to fit in a haircut taking the Princess with him. That gave me some time to finally shop alone without the child, if you know what I mean, being that Easter was the next day. Then I spent some time watching the season finale of "Terminator: The Sarah Connor Chronicles" online that had been preempted due to the tornado warnings in the area the night before. When my husband arrived home, he began his laundry as work would be sending him to New York on Monday.
We all were so tired that we decided to go out for dinner, so we all had sushi with the Princess and I still adorned with painted faces. Then it was bath and bed. All in all a very good day filled with horses, art, and whimsy—such are some of my child's delights and they are still mine as well.
Thank you, my Lord, for giving me the chances You provide to share my delights with my child, who finds them them delightful as well.