Personally, I experience the greatest degree of pleasure in having contact with works of art. They furnish me with happy feelings of an intensity such as I cannot derive from other realms. ~Albert Einstein
There is something rather special about adding designs and colors on people. Each person is so different. Each being a challenge to paint in differing ways. The most special part, though, is knowing that each has been made by God's hand. I am painting on a being with unique qualities handmade by God. What greater works of art can there be and who am I to embellish them!

I will be face painting this coming Saturday for the 4-H Horse and Pony fall fund raiser. I also have been asked to face paint with a friend for her grandchildren's elementary school fun raiser the Friday evening before, but I am not so sure that I will be able to help with that one. She wanted to learn and she thought it would help me get business. Although I really do enjoy face painting and would like to make some money doing it, I cannot plan such events in advance and be reliable with my husband's work and travel plus having only one car and the Princess would usually have to be with me. However, I am thinking that the Lord will provide the opportunities if that is what I am to do.

I am getting excited about face painting again and I just bought a large a tool box at great price (I am beginning to really like Big Lots!) to fit in all my stuff. Although I keep adding to them every now and then, with the latest addition last spring being neon paints that actually glow under black lights and all different colors of glitter this summer, I was still doing fine with just a basket because the paints and brushes and glitter do not take much room. However, other accessories like water cups, baby wipes, paper towels, hand sanitizer, petroleum jelly (as a colorless glue, basically, for getting the glitter to stick) and such do take up space. I suppose I could put those things in a separate bag as I was doing, but it is nice to just grab the tool box and have everything already in it.

I have not done much face painting since the spring—I even have to bribe the Princess to allow me to paint her these days. So, to help get back into thinking of face painting, I thought I would post some the designs I have not put on my blog before. If you would like to see some of the ones I have posted previously, just click here.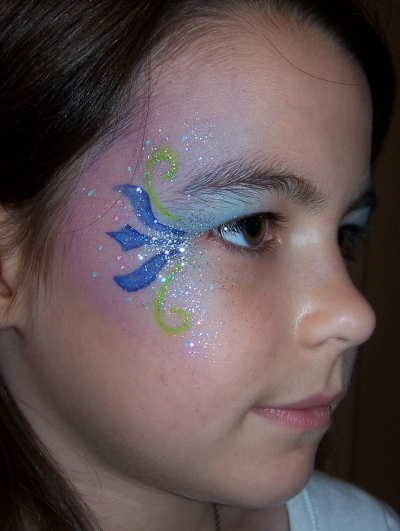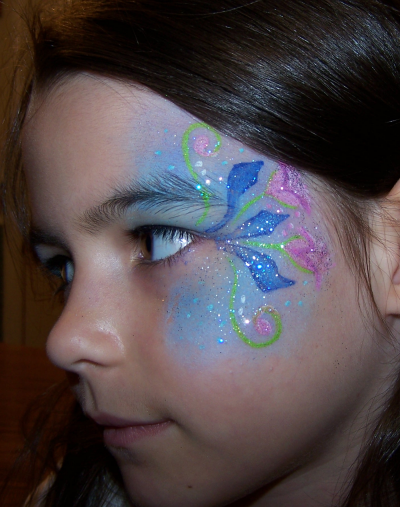 This was the design the Princess had when we went to
Medieval Times
.
~ My Lord, I cannot improve any being because each is already a work of art made by You, but if it pleases You, let the people be pleased with the art I do and raise the needed funds. Oh, and good weather, my Lord, would also be much appreciated. ~