Remember the law of the home: Junk expands to fill the space available, plus one room. ~ Deniece Schofield
Today is a very wet day. I could not work outside. It would have been excellent for baking bread had I planned to do that, but the weather prediction for the week suggests I will have plenty of other wet days to bake. It just would have been another distraction from what I really need to do anyway.
I planned to to use the same concept downstairs, I did March when I tackled the job of reorganizing my panty and kitchen food storage areas (although I have one cupboard in particular that still desperately need to be done, but not today). Actually, I have been toying with it more than planning as I have been putting it off but my one motivation is to have a useable workout area in the garage, a functional office/homeschool area, and--best of all--an space for inspiration and creativity that I will call my art studio. I need to work on one area, one drawer, one shelf, or whatever each day in those areas.
My husband has said that these three areas (which are as big as the entire living areas upstairs) are all connected, which means that to move things in one usually means you have to find a place for some of them in the other two. That makes it seem so, so, so overwhelming to me, because all three are in a state of disaster--well, the office/homeschool area is not too bad now that we have sold some items that took up so much space.
Let me explain what happens. I moved the table and kid-sized chairs out of the office area so that we could put the Princess' new desk in its place. The table is folded up in the garage but needs to be in the center of the art room, when the that room is organized. The two chairs were placed out on the curb with a for sale sign for a few days (and are listed on Craigslist) and this is how they ended up in the garage instead back into the office area. The toy bin organizer was moved out of the office/homeschool room into the art studio until it sold last week.
I have a several boxes of things that are from all three areas in the homeschool area that are piled in front of a stereo cabinet that I use to organize homeschooling items as they are waiting for new homes. This large spread out
pile
is very inconvenient and terribly bothering me. I really hate
piles
. I also really hate it when
piles
just get moved to add to an existing pile or make another whole new pile.
Piles
make have an adverse effect on me.
It even bothers me that while I am organizing something I have to make temporary piles. That is why just one area a day works best for me. It is just one concise area so that I can manage all the little piles I must make in the process of organizing and making it all so wonderfully better.
Although I have been wanting to tackle the art studio, I am just not mentally ready to enter that room yet. Its piles have piles on top of piles and some of the stuff is not mine. I have to have my husband help out with deciding what to do with his stuff. So, for today I decided that I would take on the two lowest two drawers in the office filing cabinet. It was my hope that everything would fit into the lowest one when I was done. Well, not everything did even with the things that I decided to throw out or give to Goodwill. I had to find places for a few things, but I am pleased and the drawer above is completely empty--not for long, but for now.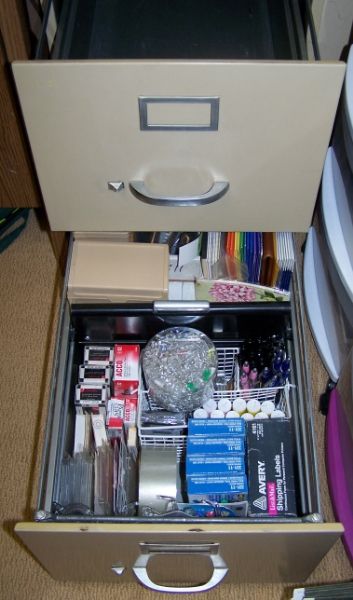 I also had a few things that needed to fit into the cabinet were we have our printing paper, labels, envelopes, and such. This is the finished product. Not particularly pretty which is why we have it inside a cabinet we can close, but now we can find everything much better than before.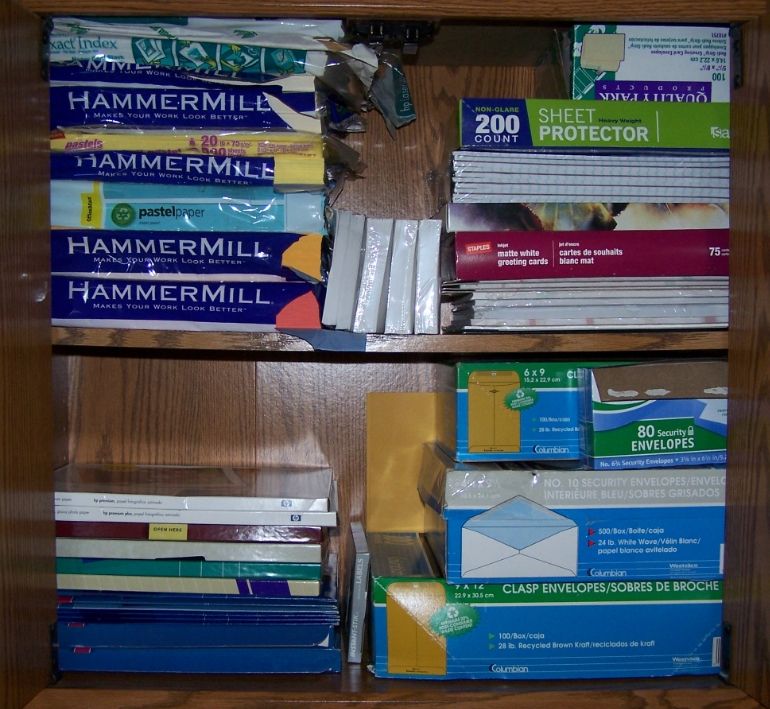 ~ My Lord, I finally started on what I have been avoiding, ridding myself of the things that take up so much room in my home and time from the things I believe You are encouraging me to do. Please bless my efforts so that my daughter and I can create artwork to honor You. ~