Life is a great big canvas, and you should throw all the paint on it you can. -Danny Kaye
I have been face painting the Princess as often as she will let me. I have been been becoming more relax with it and learning some tricks of the trade, so to speak. I think it simply comes down to learning to paint fast and furious on a unpredictable, squirmy target that also is uneven and using just the right brush loaded with the right amount of paint of the right consistency and of the exact color, because there are no second chances. Need I add that they don't teach this stuff in typical art classes?
| | |
| --- | --- |
| | I was playing here just to see how the colors stood out on skin. |
| | |
| --- | --- |
| I tend to like the dainty and mardi gras designs so, just to see if I could do a simple and bold design in as little as two minutes, I made this butterfly by loading a sponge and not worrying about the colors showing up outside of the black outline. Black is so bold on the face and stands out so well for pictures! | |
My personal favorite continues to be the "mardi gras" designs and, of course, lots of glitter is a must--plus it camouflages some of those mistakes made due to an unexpected wiggle or two!
| | |
| --- | --- |
| | Of course, the Princess seems to favor hearts the most. |
Matching face art designs to the clothing worn is also a fun challenge.
| | |
| --- | --- |
| This is another attempt of a fast and furious butterfly as I was still a bit intimidated with the use of black. This design took under five minutes. | |
| | |
| --- | --- |
| | I am so loving those mardi gras designs! |
| | |
| --- | --- |
| The Princess is still loving those hearts! | |
| | |
| --- | --- |
| | Playing around. Trying new things. The Princess requested "just dots," and was wearing a bright green top so, of course, Mama just could not resist adding stars. I have to say that this one looked so much better than the picture shows. |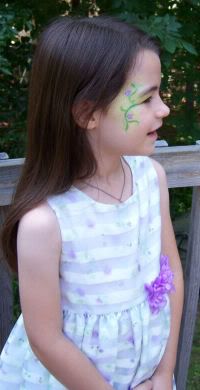 Yesterday we when out to eat after renting a car for my husband. He was scheduled to work in the state, but too far to come home in the evenings. The first two people who saw this one mistook it for a "decal," and then took a real close look when the Princess told them that it was face paint and admired how it matched her dress. I did it in record time, under ten minutes from setting out all the paints and brushes to washing out the sponge.
If You have placed this desire on me, my Lord, as a means for a bit of extra income please give me a clear sign by bringing opportunities to me and having them work out well with our schedules and transportation challenges.