Murphy's Law: If something can go wrong, it will.
Have you ever had a dream where you are trying to get to school or to work or to anywhere you absolutely must be and you just cannot get there? For me, the most common one was related to school. I would miss my ride or the bus so I would need to walk or get another ride, but before I left something else had to be done or something else got in my way or the car ran out of gas. By the time I am ready to finally go to the school it is in the afternoon and school is almost over. Or, I finally get to school and I cannot remember where my locker is, or I remember where it is but not the combination on the lock. Sometimes I was at the school, but I did not have a clue about where my class was or which one was next and, of course, I could not even remember where the office was so I could get it all straightened out. As if that was not enough, the majority of these can't-get-to-school dreams happened after I had graduated!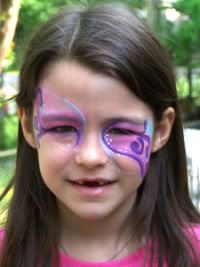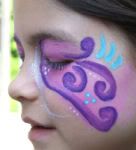 Yesterday, I felt almost as if I were stuck in that same kind of dream. I thought that it would be easier later in the week, since my husband was supposed to come home Wednesday morning and would be needing the van the rest of the week, if I could switch piano lessons to Tuesday, but after Trudy told me how she was canceling lessons on Tuesday because she was so ill, I ditched that idea. I decided we would go to our favorite farm to get fresh raw cow milk as well as do a few other errands since it would be too much to fit in on Thursday and we were on our last gallon. Before we would leave, the Princess had to be face painted. Then, I planned to go to PetsMart to get our dog some Greenies, which is next to Michaels, a craft store. Of course, over halfway there I realized we forgot the library books I meant to return on the way. No problem. I decided we could do that on Thursday when we do our usual errands--Yes, we were only doing the
unusual
ones that day.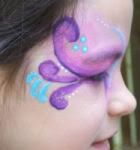 PetsMart had what I wanted and with a few
aws
at the kitties in the back of the store, we moved on next door. At Micheals, I look for a few new brushes and some sponges for face painting as I had a coupon. I spent more time than I meant to there, but that is typical of me so why am I surprised? Now it is nearly lunch time.
I could go on to the farm and have a late lunch, which is common with us, but no, I would go back home and have lunch there, get the library books and head out to the library and farm afterward. We get home and I asked the Princess to bring back the trash cans from the street. I was preparing lunch when she ran in upset about the garage door. It took a few minutes to completely understand that she had pushed the button and it went down fine. It touched the ground, she said, and then when right back up. When she pressed it again, it would not do anything and that was exactly what it did when I pushed the button, too. The door is stuck open and I would rather have it closed, particularly since my husband is away. I clean the sensors and I see the lights on each of the components and I even turn on the light on the unit, so it should work, but still nothing.
I call my husband and he suggests releasing the door from the opener so that I can manually open and close the door. Okay, but here is the part where it gets really weird. The moment I release the door, the motor on the garage door opener starts running. Of course, the door is disconnected so it is not doing anything, but running and running and running. How to turn it off? It is not responding to the remote or the wall switch! Still on the phone, my husband suggests something and before I could do it the motor stops running and all the indicator lights on the components are now off and we cannot even turn on the light. The garage door opener is completely dead....
Lunch time!
Thinking how easily I might lose my mind completely after all that messing around in the garage, I concentrate on something I can control.
Now that lunch is the later lunch I thought we would avoid and the Princess has not even begun to do any lessons, not even piano, I consider my options. I know that I could go the farm another day, as my husband also informed me that he will not be coming home on Wednesday morning, instead it will be Friday evening now, but at this point the day feels blown, so why not just go with it? I called to see if we could pick up some handmade soap from a nearby home business, but I had to leave a message as no one is there.
We leave with the library books this time. We drop them off and the Princess begs to get more, even though she did not look at but two of the fourteen we had for nearly six weeks. I finally said that she could have two and only two. Next time, she could get more IF she actually reads these two. She got one fiction and another on Mozart. Now we are off to the farm. About half way, she excitedly tells me that Mozart was friends with J.C. Bach, the son of J.S. Bach. She has been practicing J.S. Bach's Minuet in G Major so she made a connection there. I am thrilled that she is actually reading the books, instead of just looking at the pictures and making up her own stories!!!
We get to farm, but they moved the large refrigerators for the milk, so it is back into the van and drive over to the new building attached to the landmark silo. On the way back home, I realize that I had completely forgotten about the 4H meeting, the last one until September. It was to be a dressy awards banquet.
We get home and I have a message from the soap lady. I talk to her a bit and then make arrangements to come by to get a few bars. She mentioned someone had just walked into the store. Thankfully, it finally dawned on me that she was not selling and making soap at her home anymore before I left. The store is just a mile from her house, so it is not that far out of the way. Actually, it was right on the way to the library where I had already been earlier. (Duh!) I could have gotten the soap on another day, but they are open late in the morning which would be a problem on my usual errand day, so I went. Now remember that each time I leave and get back home I am having to manually open and close the garage door, which not a big deal but it is just one more thing to do that I have not had to do.
When we arrived back home, we washed the paint off the Princess' face and got dressed for the 4H dinner. We were asked to wear black, white, or green. The Princess wanted a small design near the eye, so I did one to match the flowers on her dress and took a picture of it. Now here the camera is right there in my hand, but the camera did not stay in my hand. We leave and the camera is left behind, so I used my cell phone for pictures at the banquet, which I have never done before so I have not a clue how to retrieve them at this time.
The Princess received a small award--shh, everyone got at least that one--but she was absolutely thrilled! She has so much enthusiasm! The 4H dinner went into overtime and since I did not help set it up, I helped clean up. As I get out of the van, I realize that I had not taken the milk out of the coolers and put it in the freezer, so I obviously needed to do that. It all was still very cold, besides raw milk does not spoil, so it all is just fine.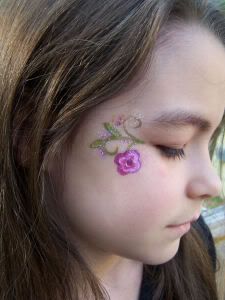 It is about 9:30 p.m. by the time we call Daddy to say good night. After talking to him about the garage door opener and forgetting, I was determined to make a point to wish him happy birthday. All day I had been looking forward to making amends for not saying it while I had him on the phone earlier. Unfortunately, by the time we get home, I am so tired that I am falling asleep sitting up and barely coherent enough to talk. To my embarrassment, I awoke this morning realizing that twice I talked to the man and both times I had forgotten to wish him a Happy Birthday.
It was just a series of simple mishaps all in one day. Actually, I did a lot, just not a lot of what I hoped to do.
Oh, yes. The Princess and I called Daddy this morning and sang to him. He sounded like he was having the same kind of day with trying to service the machine. I told him it wouldn't be much of a surprise if we had sung to him on his birthday. (He knows that I get that "I meant to do that" attitude from him, by the way.)
There are times when my plans go completely awry and I feel like I cannot get to where I wanted to go, but thank you, my Lord, for being with me, steadfast and strong.