Why is it drug addicts and computer aficionados are both called users? ~Clifford Stoll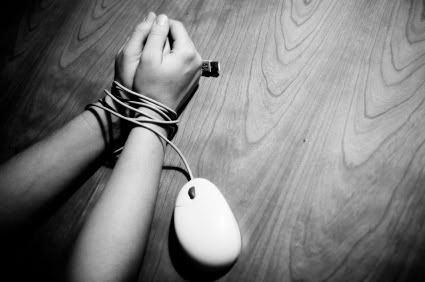 Hello. My name is seekingmyLord and I am forum junkie. I eased into this addiction a few years ago and for the last year I have been easing back out of it. This blog is part of my therapy to give it up completely, but every now and then I still slip up. I visit one or two forums about homeschooling periodically, like I did yesterday, and there is it was, just lying in wait for me...a post from someone who is bent on harassing homeschool parents.
Honestly, it is like a new sport to kick us around, one that I have dealt with since becoming a forum junkie. I think it is what hooked me, the challenge of debate and keeping a cool head even when they are purposely insulting. It is also the main reason I am weaning off forums now, besides they are largely time consuming, unproductive endeavors.
Homeschool harassers use the same groundless arguments over and over like a broken record and often don't bother with the research provided to refute their criticisms: We are denying our children of a good education. We are not competent to teach our own children. We are raising our children to be freaks. Our children will not learn to think independently. Our children will run to mommy whenever they have a problem....
On and on, they go.
I usually look past their insults, because I believe it is possible to enlighten them about homeschooling and there have been those times I have been pleasantly surprised when I have earned their respect and reduced their prejudices. Other times I have been ashamed of own responses, like this last time. However, most of these people are not convinced of anything other than what they already believe and I realize that I have again wasted time and effort that I could have spent on more productive, creative, and satisfying projects.
Time for me to back away from forums and stay away from them...again.
My Lord, I need Your strength in resisting temptations and Your forgiveness for failing to be a good witness for You.