All art requires courage. ~Anne Tucker
There are times when I think, "What have I gotten myself into?" The last few days has been one of those times. I canceled the piano lesson on Thursday after I had prayed about it and felt the Lord had told me not to try to go, as we have only one vehicle so it requires us to drop off and pick up my husband when he is working locally. The Lord knows best, obviously! As it turned out, my husband worked late, really late, Thursday and Friday. If he had not, he would have probably had to work on Saturday.
Thursday, Princess and I did lessons, I laid out my sponge for making sourdough bread on Friday, and I baked the cake for the celebration of her birthday on Saturday. I received my order of face paints on Thursday afternoon and played a bit with them.
Friday, we had lessons interlaced with kneading bread and mixing icing and face painting. I iced the cake with the sealing layer at her bed time and began the decorating after that. Finally, at about 1:00 a.m., I was able to fall into bed after I have completely cleaned up the kitchen from baking an decorating the precious and rather woolly Sammy Lamby cake the Princess requested.
Saturday was the day of the church rummage sale and I had mentioned that I would do face painting at this event if I got the face paints in on time. Having only a couple of days practice and seeing how it was not quite as easy as all those practiced experts make it look, I was a bit apprehensive. Actually, I did not even allow myself to think about whether I should or should not do it, I just prayed and the Lord said all would go well, so I pack everything up and went. Thankfully, it was a cool day, but not so cold that I was shivering.
We decided on a $2.00 per design donation to the building fund and I would be just doing smaller cheek or eye or arm designs.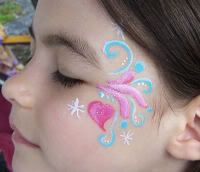 First, I did a familiar victim, the Princess, who was wearing pink and blue. I have found coordinating with the colors of the clothing being worn makes the design look better.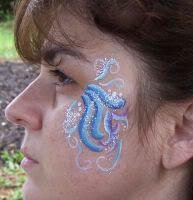 Not so bad, but my pastor was next. She liked the design Melanie had done on me previously. Now I am suddenly quite nervous. I was now doing the very first person other than my daughter or myself. Pastor wears glasses so I pulled the design down to her cheek more. What you cannot see in the picture is that she is wearing a dark blue top.
By the way, I did not have time to prepare samples or even print off some patterns or practice certain patterns so this is all free hand and on the fly. This lady encouraged me to experiment and she was wearing yellow. I tried a sponge to lay on a color as a base. It does not show well in the picture. I should have used a bit more paint, but this was the very first person on which I had ever tried that technique.
Wearing a patriotic shirt and head band, this lady asked for a patriotic design. I tried a sponge again using a bit more paint. I added a bit more definition, but again I was not completely happy with the results. At least I was learning more with each one!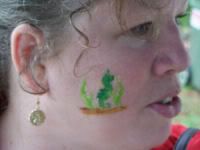 This lady knew exactly what she wanted: a seahorse as well as a design around the other eye. Unfortunately, my camera did not cooperate with me on getting a well focused shot on the seahorse. I was rather pleased with the fine lines I got on the eye design. In fact, it flowed very easily. I think I was relaxing a bit more by then. I definitely am going to need greater variety of new brushes!
I can see where the differences in skin can make a difference in how well the design takes. Children are obviously easier because of their smooth skin.
I must say that my church is a very supportive group and I thank each of these ladies and children for wearing my art while I am learning the tricks of the trade. I would say that they have much more courage than I do!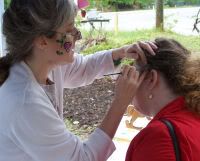 My husband had dropped me off and went on to his chiropractor's appointment. When he returned, he took a few pictures of me doing my thing.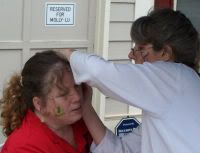 You may be wondering what is on my face and who did the work. I have only one response:
The Princess is formidable!
What I learned the most is that face painting is about being bold. The colors are bold. The brush techniques are bold. The definition is also bold. It is a step in the opposite direction from the gradual building up that I am used to doing in my fine artwork. I have much to learn and I need much more practice.
I did not make much money for the church, but I bought a few things at the rummage sale, learned a few things about face painting, had fun talking to the ladies, and our church made a bit of change for adding to our building fund!
Thank you, my Lord, for the opportunity to learn and practice face painting...and also for holding off the rain to the very end of cleaning up for the rummage sale!