I dream a lot. I do more painting when I'm not painting. It's in the subconscious. ~Andrew Wyeth
For some years I have been painting in my dreams, which is to say that I have not laid brush to canvas in a very long time, but I have been painting in my mind. In a previous post,
Saturated Through to Saturday
, I wrote about my new found interest in face painting. I have spent a few hours scouring the Internet for ideas and patterns, attempting to convince myself I can do it well and it would be enjoyable.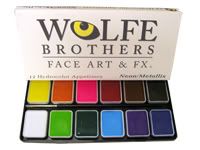 I also did some research and decided on a Wolfe Face Art & FX Essentials Palette with twelve basic colors and, of course, some glitter: gold prism, silver prism, and an opalescent which I purchased from
Silly Farm
. Good face paints that are unlikely to cause skin irritation are not cheap and we have been on a spending freeze for some time, but I feel this will not be just a fad thing for me and I actually might make a bit of money with my new hobby or at least pay for the paint eventually.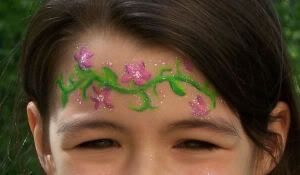 I was thinking that it would be a bit of time to get a feel for adding water, loading the brush, and applying it on skin with on a less than absolutely still child, so I did not expect much on my first attempt. The Princess wanted a flower vine crown so I tried it. The vine came out much thicker than I wanted and the flowers were not a well defined as I would like, but I learned that when you add some glitter and step back that the change in my perspective improved its appearance somewhat.
Next I thought I would try an arm. This actually was easier to control movement and angle, so I concentrated on finer lines but with the idea that I needed to do the painting quickly. A practiced face painter will do most designs in under five minutes and that is about as long as some children can sit still. On this design I learned how easily the paints can mix during application—good to know.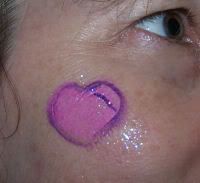 At this point, the Princess could no longer be contained as she demanded to have a turn, assuring me that she was a very good artist. I told her I would load the paint on the brush for her (because it really takes very little water and paint) and she could have it on my cheek...and have at it she did! I was quite impressed with the finished product, but mindful that I need to teach her about brush techniques, as well as highlights are done in white or lighter colors rather than the purple she used. All the time she was painting it, she was telling me how much I was going to like it.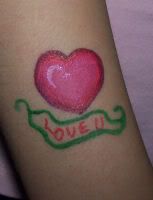 The Princess decided that she also wanted a heart. This time I played with blending colors and then just for fun added the ribbon banner.
Although the paint cleans off easily with soap and water, I suspect I will be seeing glitter often from now on. This morning when I went to arouse the Princess from her cuddling stuffed friends, I saw the hint of sparkles on her face and pillow. All I could think of was how sweet that was and about the next designs I would like to place on that sweet face.
Today I would like to spend practicing more as I will probably go the church rummage sale tomorrow to face paint there, even though I am just starting out—hey, what can people expect for a modest donation to our building fund after all? But, today there are still lessons to do in addition to a birthday cake to decorate and bread to bake. Then we can face paint and sparkle some more! Much too much fun!
Thank you, my Precious Lord, for allowing me to share, if even in a small way, the enjoyment of creativity and to use it to bring enjoyment to others.