If a man is called a streetsweeper, he should sweep streets even as Michelangelo painted, or Beethoven composed music, or Shakespeare wrote poetry. He should sweep streets so well that all the hosts of heaven and Earth will pause to say, Here lived a great streetsweeper who did his job well. ~Martin Luther King, Jr.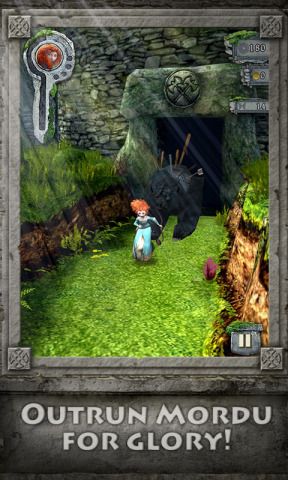 My daughter uses my Kindle as much as I do...almost. I should say instead that she plays on it. I have it password protected so she cannot use it without my consent and another password so she cannot accidentally buy anything with my Amazon account since the Kindle ties into it. Her favorite games have been
Temple Run
and
Temple Run 2
. These apps are free. There are things you can purchase but they are not necessary to enjoy the game fully.
The Princess begs to play which is quite useful at times, when a mama needs a bit of incentive for a child who needs to finish a lesson or do better with a chore or even as a punishment—yes, a two-day grounding from the Kindle was quite a torture for the child.
Seeing the app
Brave
, which is design after the Disney animated movie by the makers of Temple Run, she asked about it. The Princess had seen the movie with a younger friend, who was staying with us while her parents went Christmas shopping. The girl had obviously seen it before because she could not wait to give away all its secrets as we tried to enjoy it for our first time. Anyway, the Princess was hoping it was free to download, but it is not. I told her since she just had an allowance increase that she could buy it herself but it still would be on
my
Kindle. When she found out it was only 99¢, she ran to her room to get a dollar, but was completely baffled about how to use the dollar to purchase the app. I told her that I had to place it on a credit card first and then use her dollar to pay my credit card.She was in a sweat waiting for the purchase to process and then the download, but finally she had her Temple Run: Brave app.
Now while we were visiting church #4, we were talking with a young father who was manning the children check-in desk—not that we were checking in the Princess, but there was very little room to stand out of the way while waiting for the first service to end. He was the one who told us the church had WiFi. Then he mentioned that he ended up buying a Nook for his children because they were always using his wife's and leaving it with a dead battery. Understandable being that they were five and seven years old and not supposed to be plugging things into electrical sockets.
With the idea of purchasing her own app and how much she uses my Kindle, I thought maybe a mini tablet would be something that would motivate my daughter into making some extra money doing odd jobs for neighbors and extra jobs for us to save up for her very own. We talked about it and she was very excited about the idea so we looked up the cost of a different mini tablets, but she seemed to prefer a Kindle Fire HD like I have. We talked about the the cost of covers to protect it and sales tax, and then we decided that $250 would be a good goal. I talked to her about making a wall chart with the goal saving at the top and how to fill in as she saves up. She is working on the chart as I am typing actually.
I was thinking that I worked with my father at the gas station/car wash he was managing that summer when I was 12 years old and had a checking account. My husband began a lawn mowing business when he was around 10 years old. The Princess is turning 12 years old in less than two months so it is not early too early for her to start learning that work ethic and earning a bit of an income for herself.
~ My Lord, please guide my child and let us her parents be Your servants. ~