No matter where I serve my guests,
it seems they like my kitchen best. ~Unknown
My aunt had this trivet hanging on the wall near her stove for so many years. I liked the saying but the trivet itself just looked too old fashion to me with a woman running in an apron flipping a pancake. That was so un-me as a teenager and I did not like the thing at all then. However, when I saw one just like it in a Goodwill store, it gave me such strong feelings of nostalgia that I snatched it up. Funny how things like that, things I hated as well as things I loved, both are sentimentally pleasing. I have not yet hung it in my own kitchen, but I most likely will right above my own stove. The saying was very true in my aunt's home as she had a large country eat-in kitchen, but my home has a bar with a pot rack hanging over it between the dining area and the kitchen, so technically it is my dining room that seems to be the hang out, apart from the kitchen yet open to it. Still some of the best conversations are during the making of a meal!
However, my kitchen is has not been the place
I
like best and, after beginning to inventory the pantry, it just seemed to be logical to also work on food storage areas in my kitchen as well.
I was too ashamed to take pictures of my cabinets where I store food previously. For one, besides being messy, we had been having an
Indianmeal Moth
problem. This pest is rather common when buying bulk foods like nuts, grains, popcorn, and flour, particularly with organics because the foods are not treated with insecticides. However, this infestation was different in that it was not contained in a container and I often had a few fly out whenever I opened my cabinets—not the kind of thing you ever want a guest to see. I had removed the source of the infestation or at least what they were going after for food mostly, a bag of almonds, but by then they had also found other things to sustain themselves. Another very common pest in organic grains and flours is the
Grain Weevil
. I have had them upon occasion also, which is why my flours and grains usually are stored in the freezer. It is said it kills the eggs, but I have even had some infestations break out after freezing, although it does limit any infestation better.
All of the flours and such were sealed in zip lock bags to discourage or contain pests, but apparently both of these bugs can eat through them as well, to my surprise. (Previously, I though only the weevil could.) So, I had a few more things to toss. Just a few, thankfully. Obviously, we needed better storage solutions.
My daughter and I have been searching for items to help us organize as cheaply as possible, which means that I have been shopping at every Goodwill, Big Lots, and other closeout stores near my errand route. I have found some new favorite stores and some very handy things!
There are three things that I have wanted to have in larger containers: rolled oats, whole wheat flour, and unbleached white flour. (Rolled oats are for my husband's oatmeal, my homemade granola, part of our homemade dog food, and treats for the rabbits. Yeah, we go through it pretty fast.) I found these jumbo stainless steel canisters at Big Lots, actually a Target Room Essentials brand with very minor deflects, for $12 each, which is probably half its original price since now they can only be purchased from Target online so there is additional shipping costs. Unfortunately (or perhaps fortunately because I would have bought I don't know how many more if they had them), they only had three. An entire 5lb bag of flour fits with room to spare!
Now the problem with these huge canisters is that they did not really fit in my cabinets, which is to say they fit into them but were huge space hogs and nothing else would fit in with them. These canisters were so large that they also took up too much space on my counters; besides I do not bake so often that they would not need to that quite accessible. Previously I had the flours in the cabinet above the oven, which was a stretch for me, but we have an Amish made wooden ironing board, step stool, and chair in one that moves easily around and is highly used for such things in our kitchen. It was my husband who suggested the top of the pot rack which is close to the step stool. I had to remove a few things from that, hang the stainless steel strainer, and arrange the pots we needed to have there, but I have been very pleased with this solution. I even labeled the canisters so I could easily identify their contents.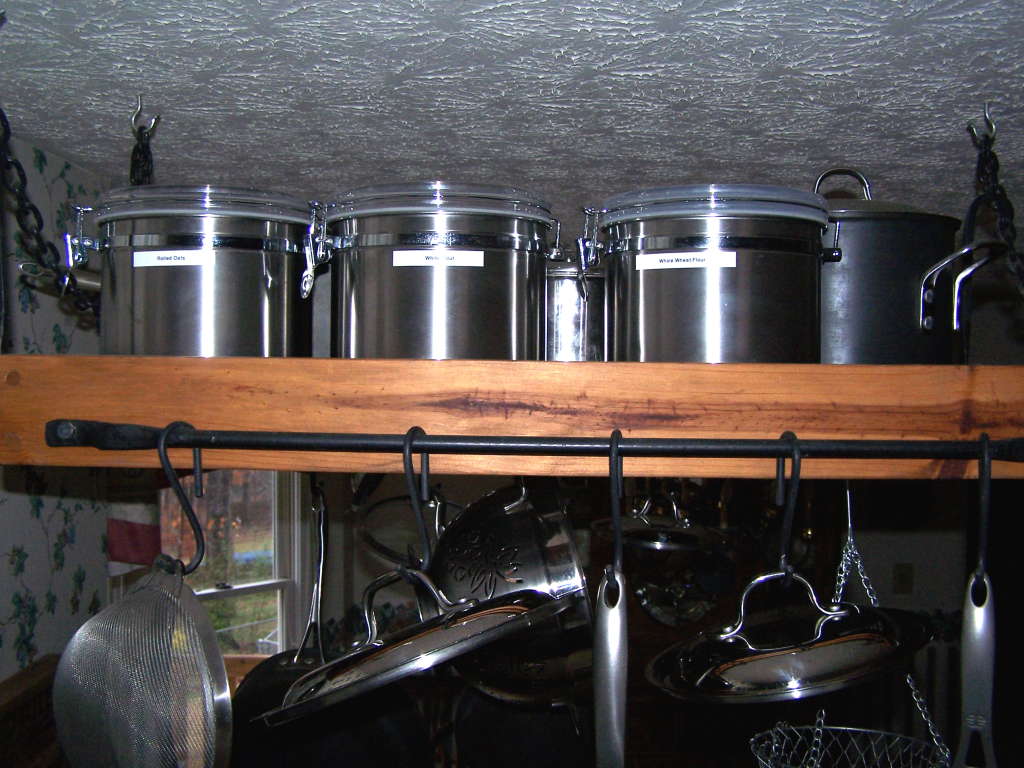 My Lord, thank you for spending time with me when I am immersed into projects like this. ~