Lo! Men have become the tools of their tools. ~Henry David Thoreau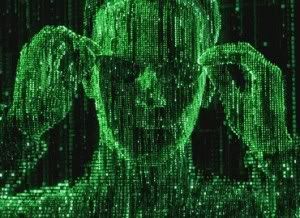 ~ Molding my Matrix ~
If you have been reading here for some time you know of my love-hate relationship with technology. One of the things I have wanted to change in my lifestyle is how I use my computer, because the reality is that I need it, really need it—I am so addicted to it that I can find convincing reasons I need it even when I have none. My husband mentioned during my computer virus woes few weeks ago that he sees his computer as a tool, as a means to get his work done, but he realizes that other people see their computers as more of a lifeline. Yes, I would be in the second category; although I know I could live without it...well, let's just not go there!

I realized, while loading programs on the reformatted hard drive, that part of my contention with my laptop is that it really has not been customized for how I use it now. If it is an extension of me, why does it not seem to fit me better? Why does it make me feel like I am conforming to it (as if the Matrix has me) instead of feeling comfortable with it? Why does looking for homeschool files make me feel tense as if I am about to search for in a file room that a tornado went through while I have all my pictures neatly organized in dated file folders? These questions drummed in my head, while I reminded myself that I have only myself to blame.

During my hunts for free programs to fix and protect my computer that I am sharing with you below, I found some other free programs that I am using to customize my computer.


~ For the Writer ~
Some things were simple changes. Being a writer, I like to have an dictionary and thesaurus on my computer. I had a suite program that provided this on the top bar of my computer screen. The dictionary and thesaurus feature was bare bones, but sufficient in most cases for me to find a word, when my mind would go blank. However, the rest of the bar just took up space and was not used and the program was old, usable but outdated for my Windows version, so I planned not to load it, which meant I would want a dictionary/thesaurus replacement.

There are several free online dictionaries and thesauruses, but I am not always writing where I have Internet access. Besides that, there are three programs that are excellent in this category, however I could not choose which to use as they all have their strengths and weaknesses so I am using all three!

TheSage is wonderful for when spelling the word is an issue as it has a wild card search and it's dictionary is basic and in a logical format, making it great for children to use also. It has a unique feature, an anagram, so it can be used to create anagram word games. The list of synonyms is too limited for my use, but it also provides hypernyms (more generic terms) and hyponyms (more specific terms) alternatives separately. This one I used more as a traditional dictionary for spelling and concise definitions.
Mobysaurus is an exhaustive thesaurus that is a huge help when I have that essence of the word I want without knowing the word itself that I need. Its lists can be overwhelming to look through, so I use it only after I have tried the next one on the list.
WordWeb is the one I use the most because it usually sufficient as a dictionary and a thesaurus generally, has access to Internet sources also, and I can hotkey a word in most text programs, like MS Word, to call up the reference in WordWeb. It also runs in the taskbar so it is running when the computer is on. If you only wanted one of these dictionary/thesaurus programs, this would be the one I would recommend.
While WordWeb runs in the taskbar and TheSage can run in the taskbar once it has been opened, I still wanted easy access to them while in a program so that I do not have to go back to my desktop or into the start menu, like I had with the other outdated suite program. Was I just being spoiled? Asking for too much? Was this a convenience that was actually going to make things even more complicated?


~ Convenient, Not Complicated ~
Apparently, I am not the only one who not only wanted to organize my desktop better. Now I have a nice little slide out menu that lists all my writing tools. The menu hugs the side barely noticeable and slides out when the cursor touches it. I can access whatever I have there in a click no matter what program I am using at the time. This nifty little program called SideSlide is also free. I am in the process of making another container just for all my homeschool file folders, programs, and most used files, like those pesky attendance records, so I am not looking all over in Windows Explorer to access special files. I am thinking of some other ways to use it too. I like this program!


~ Protect Your Data ~
Here are some other finds all absolutely free! These first two are must haves for all computers with Internet access if you don't have an antivirus program.

avast! Free Antivirus: It updates on start up, every day, sometimes several times a day. It is now on every computer we have because we just did not have the funds to renew the virus protection service we had (which is why my computer was vulnerable). This program and has saved me from a few more virus downloads already.

Malwarebytes' Anti-Malware: This program and others were instrumental in cleaning up my old hard drive so that could access my data. I had a unique problem with my partitions and GoBack that I am not going to get into, as it was complicated but it was all caused by the malware attack. Once we could access Windows again, this program worked its technomagic. It gets many of the things that slip by anti-virus programs―yes, that does happen.

Let's talk about back up. I currently am using Norton Ghost because we already had it, but I have found there are even free programs to back up your data! If you like to partition your drive as I do, there are really good free programs for that also. Easus offers free versions on many of its products. I used the free version of their Partition Recovery―what a life saver! With the other free versions of their software, you have all the programs you need to save all your data.


~ Tis for Tat Preferences ~
A change that I just like...
Thunderbird: I know what you are thinking. Why bother with Thunderbird when you have Microsoft Outlook for your email program? I have been using Firefox―love the automatic spell check feature among other things―instead of Internet Explorer for a year or two. I like it so much better that I finally decided to switch to Thunderbird and I will not likely ever go back.


~ Programs for Homeschooling Mamas (Like Me) ~
I really like MS OneNote. I have the 2007 Student Edition that will not upgrade but it was more affordable; it's a trade off. There are just no free programs similar that are quite like it as it is unique in its class. There is a webware application called Zoho Notebook that looks to be quite similar and free for personal use, should you be interested, but I have not used it personally. As much as like it, I have not been using OneNote as I would like. I would like to use it more for unit studies in history, but it has just gotten to be my dump everything program, which is its advantage and another source of clutter that annoys me―odd, because it is meant to be very helpful in organizing notes.

I think the problem for me is in the formatting of each page. I would like more order with certain things like address books and recipes, so I am using Thunderbird for my address book. To provide that ordered format to my recipes that I would prefer, I decided I needed another program designed specifically for recipes. I do have an online account with All Recipes, but here again, I needed to be online to access it, so I finally found one that suits my needs and is free:

ChickenPing does everything a recipe manager should do with a rating feature, meal planner, shopping list, scaling ingredients for servings, add pictures, nutrition analysis, and the print out is nicely formatted. Unfortunately, pictures cannot be downloaded from the Internet directly, only from your computer, and the food icons are limited. Still, I think the large print "Sticky Fingers" mode is wonderful if you are one to read a recipe on your computer in the kitchen as you prepare it! Easy cut and paste for adding ingredients, too. It appears to have excellent support. At this time this is the best free recipe manager I could find and I am working on putting recipes on it. This is more work than just copying them over from the Internet into OneNote, but I like it much, much better.

I have a few more programs I am trying to find and decide on, but this is a very good start in conforming my computer to fit my desired lifestyle, to mold my own little virus-free Matrix. I hope that I may have given you a few tips and ideas about how you might do the same.
~ My Lord, please help me to make my time on the computer more productive and use technology as a tool within the lifestyle in service of You. ~