He who has not Christmas in his heart will never find it under a tree. ~Roy L. Smith
The Christmas Pickle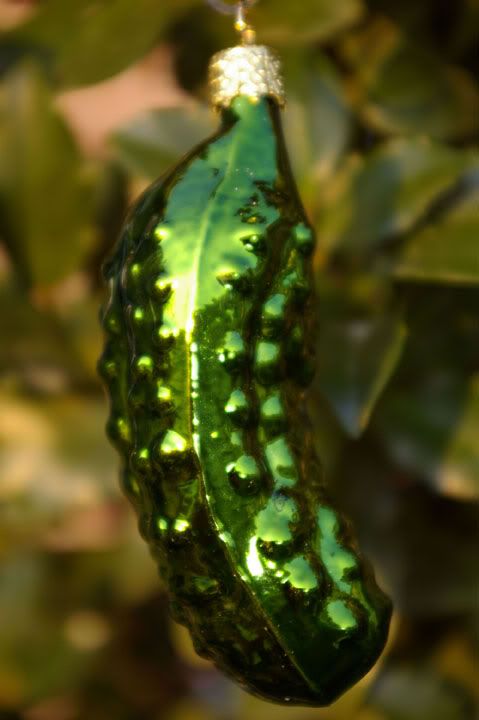 Reading: In the Victorian Christmas tradition, the pickle was always the last ornament placed on the tree and was put there after the children were in bed. Whoever found the pickle in the morning got a special surprise!!

I have to admit that I do not see the attraction for this one. I like pickles, but in my Christmas tree...?

Today is Christmas Eve. Today our camera will be charged in preparation. This day we take extra care in cleaning places where our animals are kept, a tradition from my aunt, who had stables for horses and goats and barn cats. Tonight, we shall go to church service. When return home, we will place a bottles with frankincense and myrrh essences and some gold jewelry before the baby Jesus in our nativity set under the Christmas tree while we talk about how these things were used and their significance. Both religious and whimsical stories shall be read. Handmade cross-stitched stockings shall be hung. Homemade cookies and cold milk shall be placed out for Santa with carrots for the reindeer. We shall open the last advent door and have our last reading. Then it will be off to bed. Prayers shall be said and we shall try to sleep.

It is a meager Christmas, but still one with enough presents and surprises to please the Princess...actually she is very easy to please and that part pleases me the most. She wrote several letters to Santa, but she only asked for slippers, not just for herself, but for her father and me also. She is very generous like that. I believe her wishes shall be granted. I told her she could also ask for a game or toy, but she did not have a particular one in mind. No matter, Santa seems to know what she would like best.
~ Thank you, my Lord, for Christmas. Even though my daughter is excited about the presents, we have tried to help her keep focused on the true meaning of the coming day. May she remember our traditions and desire to honor You. ~