Look, Daddy. Teacher says, every time a bell rings an angel gets his wings.
~Zuzu Bailey, It's a Wonderful Life
Angel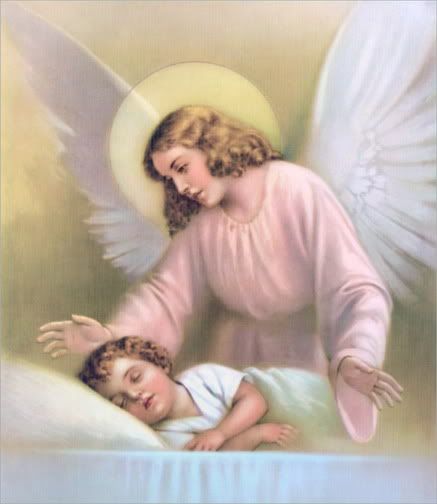 Reading: The role of the Guardian Angel is both to guide us to good thoughts and deeds and to protect us from evil. The angel symbolizes God's care for His people and it is believed that his presence is through angels. It is written in Psalm 91:11...."For He shall give His angels charge over thee, to keep thee in all thy ways."

My very favorite Christmas movie is "It's a Wonderful Life." It is all about a talented, ambitious man, George Bailey, giving up his dreams to help others with their own. There is a breaking point—yes, we all have them—where George is thinking of jumping off a bridge...literally. However, when he does jump in, it is to save another man, who jumped in before him. Actually, is not a man but an angel, who is trying to win his wings. In the end, after George realizes that the small town he hates is actually made up of people he loves and people who love him. He sees in the end that he is not the only one who can help others, but he can receive help from those he has helped. Then his youngest daughter hears the ringing of a bell, an ornament on their Christmas tree. It seems that Clarence, his guardian angel, has earned his wings and George, in being helped, again helped someone else.

With the exception of movies made from stories in the Bible, there just has never been a movie yet made with a better message than this one. We watch it every year as we trim the tree while snacking on eggnog, cookies, and candy.
~ My Lord, thank you for Your angels bringing messages to us, protecting us, and guiding us according to your will. ~